Vendor Neutral
Generation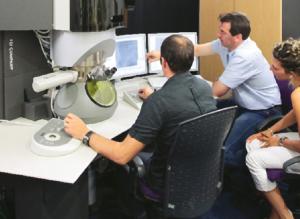 FEI Company , a diversified scientific instruments company providing electron and ion-beam microscopes and tools for nanoscale applications, completed a multiple system installation at the Materials Ageing Institute (MAI) in France, a utility-oriented research center financed by Electricite de France, the Tokyo Electric Power Co., the Kansai Electric Power Co. and the U.S. Electric Power Research Institute. The MAI microscopy laboratory has now commissioned its new FEI Titan Scanning Transmission Electron Microscope (S/TEM) microscope, the most powerful commercially-available microscope in the world. The Titan joins the MAI's FEI Tecnai S/TEM, Helios DualBeam and Quanta 600 Field Emission Gun (FEG) in one of the world's premier microscopy facilities, where they will be used to study the aging of materials to improve the reliability and safety, and extend the lifetimes, of nuclear and non-nuclear power plants.
Alstom won a contract worth E90 million for the automation of Eskom's latest thermal power plant project, Kusile in South Africa. Alstom Power will engineer, supply and install its latest ALSPA Series 6 Distributed Control System (DCS). The contract follows a similar order in November 2009 for Kusile's sister plant, Medupi and forms part of Eskom's multi-billion rand expansion program to double South Africa's electricity capacity in the coming decades. This program covers the building of new capacity (like Kusile and Medupi) and optimizing existing fleets (such as retrofitting nuclear and coal plants, including Koeberg and Arnot). Alstom's flexible control system is expected to help Eskom by enabling real-time information exchange between baseload and renewable power plants.
Ventyx announced that Romanian nuclear operator CNE Cernavoda, in conjunction with its business partner SIVECO Romania, successfully implemented the Ventyx Asset Suite enterprise asset management (EAM) software solution to manage maintenance and safety operations for its nuclear plants at Cernavoda, and has made a new four-year commitment to extend the deployment to the entire nuclear operation. CNE and SIVECO deployed Asset Suite across CNE's two currently operational plants, Units 1 and 2, supporting a total of 600 users. As part of the new agreement, CNE committed to extend the solution to 1,000 users and deploy additional Asset Suite modules, including Engineering Change, Personnel Qualifications, Project Management and Total Exposure.
The Vineland N.J. Ramada hotel announced completion of its newly installed on-site solar project. In cooperation with Pfister Energy , the Ramada recently completed a 500-kW ground-mounted system that consists of 235-watt solar photovoltaic panels. The system will generate 620 kW hours of electricity per year, enough to power the equivalent of 50 households. The solar system's clean renewable output will avoid the release of 863,220 lbs of carbon, 4,717 pounds of sulfur and 1,552 pounds of nitrogen emissions every year. "The Vineland Ramada will be the first member of the Wyndam Hotel family to be powered by the sun in the state of New Jersey," said owner John Scipione.
tenKsolar executed an agreement with the National Rural Telecommunications Cooperative (NRTC) for sales of the company's high output solar photovoltaic systems to rural electric cooperatives. tenKsolar is bringing to market the RAIS PV module, a proprietary, high output, reliable photovoltaic system