Recharging Employees
How to make sustainable performance improvements at any utility.

ComEd business practices companywide.
'Consultant-Lite' Approach
After more than 200 interviews, outside benchmarking and a site visit completed, the CSS team needed a structure to organize and prioritize its performance improvement ideas. The team created value chains for customer operations and transmission and distribution (T&D) to provide a common way of looking at these functions. For example, the primary links in the T&D value chain included: plan and analyze; design and construct; maintain and operate; restore; and support ( see Figure 1 ). Critical issues and improvement opportunities were organized along the steps in the value chain and several initiatives were chosen for in-depth analysis and evaluation.
In Phase I of the project, the team analyzed long-standing, challenging cross-functional issues, such as revenue protection, storm response, work and contractor management and the budget process. Each initiative cut across multiple parts of the value chain and affected several groups within the company, while offering improvements in operations, finance and customer satisfaction. For example, the CSS team's analysis of the company's revenue protection efforts led to new ways to tackle the problems of energy theft, defective meters and consumption on inactive accounts. The results included new process designs, a new organizational unit and a significant financial benefit for the company.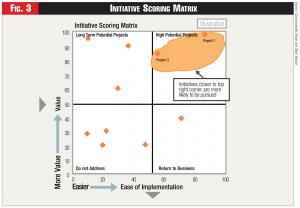 Senior management also charged the CSS team with the task of creating a more analytical approach to improving the business while strengthening ComEd's pool of analytical talent among its managers. ComEd partnered with Oliver Wyman, a strategy consulting firm, to institutionalize a structured approach to solving the complex, cross-functional issues that CSS was tackling. Oliver Wyman created a toolkit that included training modules on consulting best practices, such as problem structuring, presentation skills, project management and advanced training for Excel and PowerPoint software programs. The training facilitated ComEd's goal of making CSS sustainable by reducing the need for additional consultant support.
The so-called "consultant-lite" approach proved successful for ComEd, because it provided the dual benefit of lowering consulting expenditures while creating internal consultants in the form of CSS team members. Furthermore, the success from Phase I of the project showed that this type of structure could offer long-term value if made permanent. After significant internal discussions as well as outside benchmarking, ComEd formed a new organizational unit, called operational strategy and business intelligence (OSBI). This group has a broader mandate than the original strategic initiatives team did. Modeled after successful strategy groups at eBay, Starbucks, and Fidelity Investments, the OSBI group consists of three teams: 1) strategic initiatives, responsible for cross-functional process improvement; 2) business intelligence, responsible for benchmarking, analysis and operational assessments; and 3) operational analysis and strategy, responsible for strategic planning, risk management and initiative monitoring and feedback.
This new group also consolidated key activities within ComEd, eliminating redundancies across several benchmarking groups, while also reducing the initiative overload issue. More important, the group has prioritized and scored initiatives from a variety of sources, linking these initiatives back to ComEd's strategic drivers.
Playbook for Sustainable Improvement
The work done at ComEd can be structured into a playbook, which is being explored elsewhere