Nuclear YIMBY
Local communities welcome new reactor projects.

the local plants help their local economies. At a time when many industries are contracting, the nuclear energy industry has added 15,000 jobs in the past three years. That number would swell to 89,600 direct and indirect jobs if the 64 GW of new nuclear generating capacity forecasted in the Electric Power Research Institute's (EPRI) PRISM analysis were to be built by 2030.
The new reactors at the Vogtle plant in Georgia will supply electricity to 1.4 million people and will create 3,500 new construction jobs and 800 permanent jobs. Already, 700 workers are excavating and preparing the site for the largest construction project in Georgia's history. Additional state and local taxes from the new reactors will improve schools, police and fire services, and the local infrastructure. These are among the reasons that residents near these plants favor nuclear energy and the construction of new reactors that will provide reliable and low-carbon electricity.
Used Fuel Management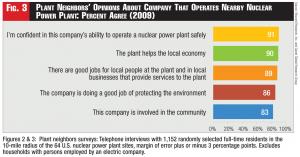 Following the federal government's decision to terminate the Yucca Mountain repository project in 2009, plant neighbors expressed more clearly than ever that they don't want spent uranium fuel to stay at the plant sites. Their preference: centralized storage options.
Last year, 56 percent of residents near nuclear plants agreed that used nuclear fuel can be stored safely at the plant site, compared to 71 percent who in 2007 agreed that the fuel could be stored safely at the plant site until it's moved to a permanent disposal facility. This difference between the two years could reflect a greater confidence in the safety of used nuclear fuel storage at the plant when that storage is temporary.
Two centralized storage options make sense to plant neighbors:
• 85 percent in 2009 thought it's more appropriate that nuclear waste be stored at one or two volunteer sites, where it can be stored more securely and efficiently; and
• 82 percent in 2009 agreed that the federal government should continue to develop the Yucca Mountain site for a national disposal facility for nuclear waste as long as it meets NRC regulations—up from 78 percent in 2007.
The March nationwide survey for the Nuclear Energy Institute (NEI) demonstrates that the public is more comfortable with off-site than on-site storage of used nuclear fuel rods. While 59 percent agree that used nuclear fuel rods can be stored safely and securely at nuclear energy plants, 81 percent believe that the federal government should store used nuclear fuel rods at a secure storage facility away from the nuclear energy plant sites until a permanent disposal facility is ready.
Knowing that the U.S. Nuclear Regulatory Commission (NRC) has determined that used nuclear fuel rods can be stored safely and securely at nuclear energy plants for 100 years increases comfort with on-site storage only slightly.
Nearly eight out of 10 (79 percent) favor recycling used nuclear fuel rods to make more electricity and reduce the amount of waste that must be disposed. Knowing that a panel of independent experts recommended recycling used nuclear fuel rods increases support, but support is already very high without mention of