The 40 Best Energy Companies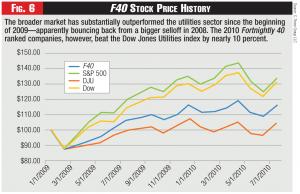 are thinking twice before initiating rate cases that might have seemed straightforward before the recession.
For instance, back in 2008 Dominion announced plans for a $600 million smart-grid rollout that would have provided advanced metering infrastructure (AMI) for Virginia Power's 2.4 million customers. But in the 11th hour, just as the VCC was scheduled to rule on the rate case, Dominion removed the AMI rollout from its plan. "We're taking a very cautious approach to smart-grid implementation," McGittrick says. "We're doing pilot projects to ensure the benefits are clear for customers. That process will take a number of years. When we get comfortable with the results, we'll either go to the commission to propose a larger implementation or we'll stay with things as they are."
Southern Discomfort
In the midst of these uncertainties, many companies now are moving ahead with cap-ex programs—some of which are reflected in this year's F40 numbers, and others that will begin hitting their balance sheets in time for the 2011 and 2012 rankings.
For the 2009 fiscal year, just 10 companies accounted for fully 40 percent ($34 billion) of the industry's total $83 billion in capital expenditures. At the top of the list, Southern Company spent nearly $4.7 billion on capital projects in 2009—the biggest annual cap-ex number in F40 history. And Southern is just getting started, with plans for more than $16 billion in cap-ex through 2012. Some of the company's largest and highest-profile investments:
• Plant McDonough, a project to repower an existing 600-MW coal-fired plant with a three-unit, 2,520 MW natural gas-fired facility, is under construction near Atlanta. Because of reduced demand expectations through 2012, Southern's Georgia Power subsidiary delayed the project's schedule by several months—with the first unit now expected to enter service in 2012. The company said the delay would increase total project costs by 7.7 percent to somewhere in the neighborhood of $1.8 billion;
• In Kemper County, Mississippi Power is scheduled to bring 582 MW of integrated gasification combined-cycle (IGCC) capacity online in 2014. The company had considered walking away from the $2.4 billion project until it reached a revised settlement in 2010 with the Mississippi PSC. The clean-coal project is proceeding with $682 million in federal support; and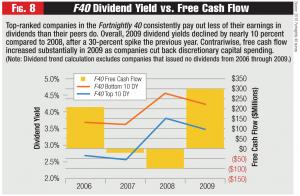 • At Plant Vogtle, Georgia Power has started early site work on two new nuclear reactors that are scheduled for startup in 2016 and 2017. Early this year, DOE awarded the project an $8.33 billion loan guarantee, covering more than half of the reactors' expected $14.5 billion cost.
Additionally, the company expects to invest $2.4 billion in emissions-control equipment, and more than $4 billion in T&D infrastructure from 2010 through 2012, including continued smart-grid investments; already Southern has installed smart meters for about 2 million of its 4.5 million customers.
The costs and risks of such extensive cap-ex plans contributed to Moody's decision in August to downgrade Southern Company's credit rating, along with the ratings of Georgia Power, Mississippi Power and Gulf Power. Moody's cited regulatory risk in Florida and also Georgia, where the company recently asked the state commission for