The 40 Best Energy Companies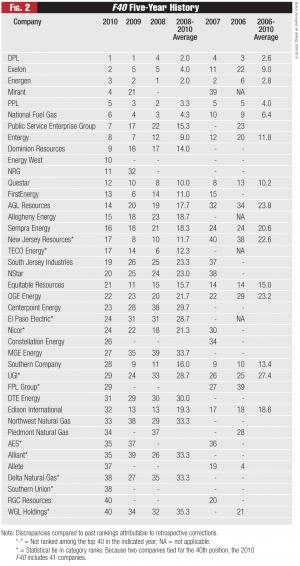 of big rate cases before state PUCs. Requests range from PECO's $317 million T&D upgrade filing to Duke Indiana's petition for a second increase in its rate rider for the 618-MW Edwardsport coal-gasification project—originally estimated to cost $1.985 billion and now priced at $2.88 billion. Companies across the country are hoping to move forward with other projects of similar scale, involving all types of utility infrastructure.
"The Big Build stalled with the recession, but is showing significant signs of returning," says Jean Reaves Rollins, managing partner with the C Three Group in Atlanta, which developed the Fortnightly 40 model and provides financial analysis for each year's report. "For many years the industry has made little investment except for critical expansions to serve economic growth. There's a huge pent-up demand to replace aging infrastructure. Now, as long as the recovery in unit sales stays on track, the pressure on capital budgets should ease."
Of course, spending leads to rate increases, and a long list of companies in the past several months have requested double-digit rate increases at PUCs. Not surprisingly, many of these rate cases are encountering tough resistance, arriving as they have in the midst of economic malaise and the mid-term election campaigns. As a result, the stakes never have been higher for regulatory relationships among utility companies.
"Being such a capital-intensive industry, it's crucial for utilities that their investors understand what they're going to get back for their investment," says Robert Laurens, senior executive in Accenture's strategy practice. "With utilities' credit ratings depending on confidence around cash flows, the regulatory situation is paramount."
Big Build Delayed
Looking past changes in individual companies' F40 rankings, one trend seems evident in the survey's aggregate data: The average company's capital budget dropped substantially in 2009, compared to 2008 figures. The recession forced many power and gas companies to reduce their construction plans, and even now—two-thirds of the way through 2010—many still await clear signals to resume major cap-ex programs.
While the recession drove a large share of the industry's investment delays, projects have been pushed back for a multitude of reasons. For example, environmental permitting challenges along the route for PSEG's $750 million Susquehanna-to-Roseland line prompted the company to push back its ground-breaking date until 2014 or later. "Most of it is located on existing rights-of-way, where we already have smaller lines installed," says Caroline Dorsa, CFO of the #7-ranked PSEG. "We've been working very hard with all the communities along the way, and they recognize this line is needed for reliability. But it's a reminder of how difficult it is to build transmission in this congested area."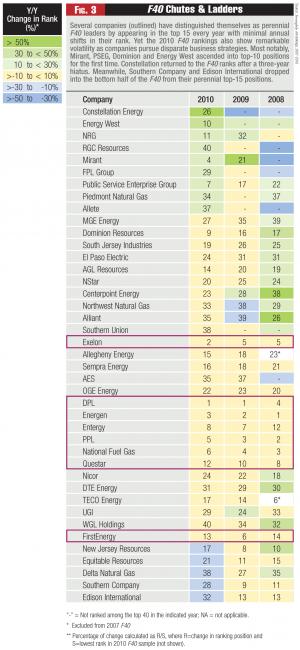 Uncertainties about air emissions regulations also have driven some delays in capital investments, especially for generating capacity. "Our understanding is that many big companies are actively revising their assessments about what plants will need to be refurbished or mothballed," says Jim Hempstead, senior credit officer with Moody's. "So there could be a significant aount of capital on the sidelines that's not yet incorporated into plans."
"We have a lot of catching up to do on the