The 40 Best Energy Companies
generation side," says Mark McGettrick, CFO at Dominion Resources (#9). "We're the second-largest importer of power in the country. We have a construction plan through 2012 for electric generation and transmission and also gas transportation projects. But environmental regulations are a moving target, particularly regarding CO 2 emissions."
McGettrick notes that in Virginia, where most of the company's generation is located, the Virginia Corporation Commission (VCC) provides rate-rider treatment for new gas-fired generation needed to replace coal units that Dominion might have to shut down. This makes implementing its construction strategy easier, but the company is still waiting for clarity on its path forward.
Changing regulations also are causing delays in non-fossil projects, such as wind farms. Two provisions of the American Recovery and Reinvestment Act (ARRA)—bonus depreciation and an option for owners to claim grants in lieu of investment tax credits—were set to expire in 2009 and 2010 for most eligible projects, and Congress hasn't extended them. Further, the U.S. Senate has tabled proposals to enact a federal renewable portfolio standard (RPS), which only last year appeared to be strongly supported in Congress.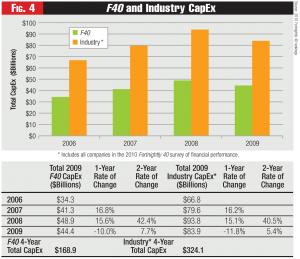 These policy factors, combined with flat electricity demand and low gas prices, have weakened America's appetite for wind power.
"Without a federal mandate, wind projects are very difficult to build in the current environment," McGettrick says. "We have about 700 MW of wind generation under development, and we're taking a wait-and-see approach. We'll wait for the regulatory and economic signals, and go whichever way the wind blows."
The shifting political and regulatory outlook is affecting some companies more than others. Most notably, NextEra Energy, formerly FPL Group, returned to the F40's ranks this year after a two-year hiatus. But its strong unregulated earnings, driven by major wind power investments, seem unlikely to grow at their previous pace. At the same time, NextEra faces a tumultuous regulatory environment in its home state.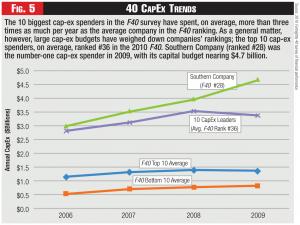 Earlier this year, the Florida Public Service Commission stunned both Florida Power & Light and Progress Energy by deeply cutting their proposed rate increases. FP&L had sought nearly $1.3 billion, in part to cover reliability investments required to comply with federal mandates, and the commission granted only $75.5 million, prompting the utility to put $10 billion in cap-ex projects on hold and causing rating agencies to downgrade the company's credit rating (see Figure 11) . Since then, the state legislature engaged in what pundits call "payback" against the commission, proposing legislation to constrain the governor's authority to appoint commissioners and ousting four incumbent PSC members. "The PSC's decision was bizarre, and now all the utilities in Florida are facing a lot of regulatory uncertainty," Rollins says.
The Sunshine State might be an extreme example, but regulatory controversies are slowing down utility investments in many states. In Maryland, for instance, the PSC in June 2010 rejected Constellation (#26) subsidiary BGE's smart-grid project proposal, in the context of a contentious gubernatorial race. At press time the PSC approved a revised proposal, but the case exemplifies the pressure utilities are facing in the regulatory arena. As a result, many utilities