Back to Business
Utility deals resume after 18 months of austerity.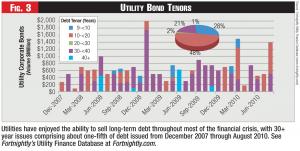 quarters of strong economic signals, combined with federal clarity on energy and environmental policy, could allow the industry to move forward more confidently on some key strategic priorities—most notably infrastructure investments and mergers and acquisitions (M&A). In the meantime, utilities are finding easy access to the public capital markets—which we'll definitely need to keep the buzz going.
Open Markets
In the depths of the financial crisis, corporate bond issues virtually stopped as banking institutions circled the wagons. But except for a few anomalous days, when the markets seized up in apparent panic, investment-grade utility companies had little trouble obtaining the debt funds they needed.
"The utility sector has distinguished itself throughout the financial crisis as having access to the capital markets even during the worst of times," says Tim Kingston, managing director at Goldman Sachs. "That's unusual compared to other sectors, where access was shut. And now, with historically low interest rates and relatively attractive spreads, issuers are getting some of the lowest all-in rates on borrowing that we've ever seen. Many CFOs and financial teams are taking advantage of that to finance their capital needs."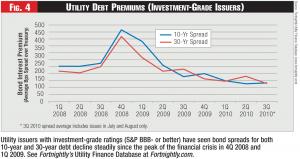 This continued access bodes very well for the industry's plans to invest some $1 trillion in infrastructure during the next decade. Low costs of capital will improve the business proposition for the full range of planned construction projects, from gas pipelines to smart-meter rollouts.
Among the various companies in the U.S. electric and gas industry, regulated utilities are the greatest beneficiaries today. Buy-side analysts and investors view the utility sector as a low-risk, cash-flow haven during troubled times. "Investors today are in a defensive position, given the shaky economic backdrop," says David Nastro, managing director at Morgan Stanley. "The market is rewarding companies with a pure-play, regulated business model."
As a result, many utilities have been going to market sooner than they otherwise might, to refinance existing debt and also to pre-fund future financing needs. "We see this as an opportunistic grab of low-cost capital," says James Hempstead, senior vice president with Moody's. "Companies that were otherwise planning on going into the market later are pre-funding, issuing debt now at attractive rates."
At this writing, the trend was accelerating, with an unusually large volume of bonds being issued in August—traditionally a slow month on Wall Street—and even more going to market in September (see Figures 1, 2 and 3) .
Banks similarly are welcoming utility industry borrowers.
"Spreads haven't returned to where they were before the financial crisis, but they've tightened a lot," says Andy Redinger, managing director at KeyBanc Capital Markets. "Banks saw how well utilities did during the financial crisis, and now they want to provide capital to this space."
In particular, lenders and investors are heartened by utility regulatory structures that have kept companies financially strong through a bad recession. "Coming out of this economic cycle, utilities stayed on an even keel because they had regulatory mechanisms that assured quick recovery of costs," says John Whitlock, a managing director at Standard & Poor's. "Tracking mechanisms and fuel-adjustment clauses are very good for credit