Chasing the $un
Solar projects are becoming hot investments.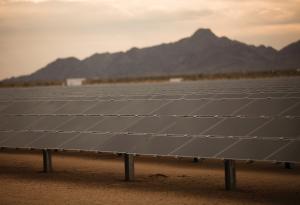 to choose the advantages of owning, versus buying the power through a PPA."
For a regulated utility, the decision to build or buy can be a balancing act because many are already in the midst of other capital intensive projects, like transmission and distribution upgrades, says Andy Redinger, managing director of the energy utility group at KeyBanc Capital Markets.
"The U.S. utility industry hasn't had a construction cycle like this one since the 1970s. At the same time, the renewable path adds even more spending," Redinger says. "You've got a slowing economy, state and local governments that are in difficulty, and taxes are going up. We're talking about a lot of money, and utilities have to weigh the regulatory risk. Do they build a solar plant themselves or buy the power from someone else to meet their requirements? There are a lot of moving parts to this issue," he says.
If a regulated utility can fold the asset into its rate base, Redinger adds, owning the facility is the most efficient option.
"If I'm a utility and I'm able to rate-base a gas plant or a solar plant, I'd probably choose the solar plant. A natural gas plant is clearly cheaper, but if the regulators agree and I have no solar assets, I'd say put it in the stack and use it to help make up the RPS," he says.
In Arizona, electric utilities like Arizona Public Service (APS) must procure 15 percent of their energy from renewable resources by 2025. Though it has PPAs in place to buy some 700 MW of renewable power, including 370 MW of solar capacity, APS has begun developing its own solar projects too.
In 2010 it announced four utility-scale PV projects, including the 18-MW Gila Bend, 15-MW Luke, 17-MW Hyder and 20-MW Chino Valley projects. They're all part of a program called "AZ Sun," under which APS will invest about $500 million to develop 100 MW of utility-owned photovoltaic assets. With other projects still to come, the entire 100-MW portfolio is scheduled to be online by 2014.
"Compliance isn't the only reason we're investing in solar," says Eran Mahrer, director of APS Renewables. "Arizona is a growth state and ours is a growth territory. A few years back the question for us became 'How do we add renewable energy to meet our resource planning needs and fulfill our compliance objectives?'"
From a strategic standpoint, Mahrer says owning solar assets will help APS diversify its energy portfolio and lessen its long term risk.
"Only 100 MW of our 800 MW of utility-scale renewable capacity will be coming from APS-owned projects, so our objective now is to try to balance that out. Probably not 50/50, but we had to acknowledge that owning a little over 10 percent wasn't completely managing that risk," he says.
With the economic downturn, solar projects proposed by private developers that appeared promising several years ago have been terminated due to financing difficulties. APS reasoned that the changes in the tax law that now allow utilities to claim a 30 percent investment tax