Tax Burdens and Barriers
Where tax rates are too high, grid investments suffer.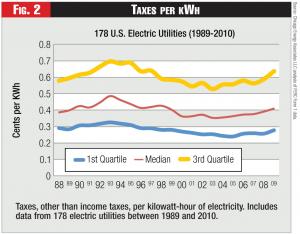 averaging about 0.4 cents per KWh over the past two decades.
More importantly, Figure 2 also highlights that the lowest-taxed half of the industry ( i.e., first and second quartile) has seen substantially flat tax levels on a per-kWh basis, but that the highest-taxed half of the industry has seen taxes rise on a per-kWh basis over the past 20 years. This suggests that the industry's utilities are operating in two types of jurisdictions—those that are making significant efforts to control utility taxes, and those that continue to see utilities as targets for raising taxes and fees.
Although understanding the taxes that utilities and ultimately consumers pay in the context of average rates is an important foundation, the reality is that the substantial portion of utility taxes and fees are paid in the form of ad valorem or property taxes. These property taxes are derived in various ways depending on the jurisdiction from asset values; these asset values are, in turn, derived in a variety of methods based on original cost, replacement cost, income potential, or market value.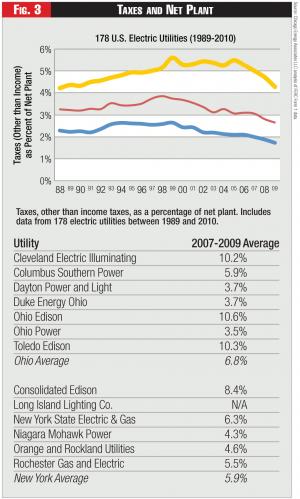 Like the railroads before them, utilities are composed of complex, geographically dispersed asset networks that typically span dozens, if not hundreds, of taxing jurisdictions. Many of the industry's accounting and tax practices are originally derived from railroad regulation—and are increasingly obsolete. The computations of taxable value and the allocation of taxable values among jurisdictions are of keen interest to numerous stakeholders.
The industry's overall tax burden from 1989 through 2009, when expressed as a percentage of net plant assets, is perhaps the most illuminating measure of the industry's total tax burden (see Figure 3) . At all levels of the industry, tax burdens peaked in the late 1990s and have steadily fallen since. On average, it's now approximately 2.7 percent of net plant per year.
Utilities are historically among the largest local property-tax payers in most jurisdictions. Moreover, in many states they pay a disproportionate share of property taxes. For example, in Minnesota utility property composes 1.6 percent of the total taxable market value of property, and yet utility property tax comprises 3.5 percent of the total taxes paid on all property. 2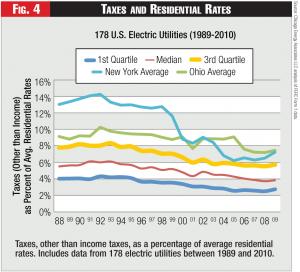 The overall declining trend has been partially the result of numerous utilities' efforts to lower their overall tax burden, predominately through the reduced valuation of assets, exclusion or special tax treatment of certain assets, or reduced tax rates. Figure 3 also illustrates a wider issue: the large variation of relative tax burdens among utilities. For example, a utility at the third-quartile level has a tax burden more than 60 percent higher (2.6 percent vs. 4.3 percent) than the industry average. Not surprisingly, many of these third- and fourth-quartile utilities are in notoriously high-tax jurisdictions in the Northeast and West Coast.
Regional and Local Variation
Although the overall industry trend toward declining relative property tax burden has been favorable, tax rates in a number of local and state jurisdictions have remained stubbornly high, and quite extraordinary in the context of national trends. For example, states such as New York and Ohio