Embracing Wind
Integrating renewables in New York.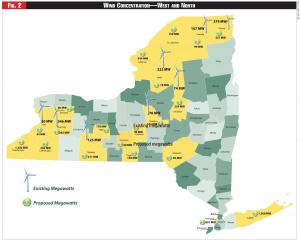 power, in terms of both capacity and generation, has surged in New York. In recent years, more than 1,300 MW of wind capacity has been added to the grid (see Figure 1) . The continued growth of wind as a generation resource in New York is expected for the foreseeable future due to a variety of factors, including the state's RPS and New York's participation in the Regional Greenhouse Gas Initiative (RGGI).
In September 2004, the New York State Public Service Commission (PSC) issued its "Order Approving Renewable Portfolio Standard Policy." That order identified the commission's renewable energy policy and provided definitions and targets for carrying it out. The policy calls for an increase in renewable energy, including wind resources, used in the state from the then-current level of about 19 percent to 25 percent by the year 2013.
Concurrent with this order, the NYISO and the New York State Energy Research and Development Authority (NYSERDA) commissioned a joint study to evaluate the reliability impacts of increased wind generation. In 2010, NYISO staff performed its own assessment of reliability impacts of wind generation up to 8,000 MW and published a study report in September 2010. 2 The current state of the NYISO interconnection queue supports the conclusion that wind power capacity will continue to grow in New York. More than 8,000 MW of wind capacity is proposed or already online, which represents about 38 percent of the capacity in the queue. One of the NYISO study's findings was that accommodating the 8,000 MW of wind would increase the regulation requirements from today's 275 MW peak requirement to a level of 425 MW—a significant increase.
The advent in New York State of market-based rates for energy and ancillary services, coupled with the ever-increasing investment in wind resources to meet the NYS RPS, is driving new research and investment in the energy storage field (see sidebar "Creating a Market For Storage") . These technology investments are targeting the increased regulation needs to reliably balance the intermittent nature of the renewable resources.
Wind resources have clustered in northern and western areas of New York State (see Figure 2) , which can lead to transmission system constraints at times of high wind production and low loads or other operational limitations such as equipment outages. Dispatching other resources around wind plant output alone might not be adequate to efficiently manage the expected levels of wind generation in New York.
Wind on Dispatch
In June 2008, the NYISO implemented a centralized wind forecasting system to forecast the amount of energy expected to be produced by each wind plant for use in the NYISO's day-ahead and real-time security constrained economic dispatch systems. Wind plants are also required to collect data on wind speed and direction and transmit that data to the NYISO's forecast vendor as well as to make payments to maintain the forecasting system. The NYISO uses the wind data to create wind power output forecasts and includes those into its day-ahead and real-time economic dispatch processes.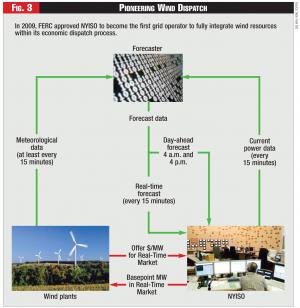 Accurate wind power forecasts in the day-ahead unit commitment process minimize