Renewables at a Crossroads
Investment opportunities in an evolving environment.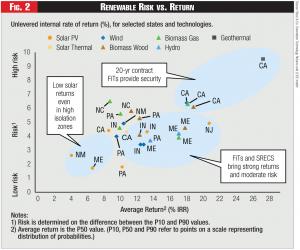 also helped to stimulate investments in higher-cost solar and geothermal technologies.
Additionally, REC trading programs are now established in most states that have RPS obligations to provide electricity suppliers with flexibility in complying with the mandate. RECs are tied to generating units and can be sold along with or separately from the underlying power generation to third parties that, in turn, can redeem them with regulators to satisfy RPS requirements. These markets typically are state-specific, vary in their setup, and are still in their infancy. However, the arbitrage opportunities in the REC markets have been critical in attracting private-sector investors, as they have incentivized investors to bundle RECs acquired from single providers and sell them at a premium to companies that need to satisfy RPS obligations. Some states have also set REC prices for specific generation technologies (such as solar RECs, or SRECs) to help provide cash flow certainty to investors and secure financing ( see "New Jersey's SREC Success" ).
Feed-in tariffs, which establish a guaranteed price for the generation output over a set period (typically 10 to 15 years), are also selectively employed by state and local governments as a way to encourage utilities and developers to invest in new renewable energy capacity. As with RPS mandates, FIT commitments vary significantly across states and tend to favor certain technologies. Consequently, in combination with regional wholesale power price variation, returns vary widely across technologies and states ( see Figure 2 ).
Beyond state-level incentives, federal investment and production tax credits have been on-and-off components of American energy policy since well before 2005, subject to extensions by Congress. Despite uncertainty about their longevity, both programs have played a crucial role in the development of the renewables sector. ITCs have been favored by solar photovoltaic (PV) manufacturers and other industry participants considering investments with high capital costs (relative to recurring costs). PTCs effectively guarantee a fee in the form of a tax credit for every unit of electricity produced ( see Figure 3 ). As such, they are a better fit for the wind energy industry, due to the technology's lower up-front costs and greater potential to generate ongoing cash flows from producing power.
During the global economic downturn, participation in both programs was limited, because the tax credit benefits aren't immediate and require reliable positive cash flows for offsetting the credits. However, this limitation—from the investors' perspective—was addressed by the American Recovery and Reinvestment Act of 2009, which temporarily allowed cash grants in place of the tax credits. This change, which was recently extended for another year, helped stimulate solar PV investment in 2010. The Recovery Act also renewed the PTC program through the end of 2013 (2012 for wind), helping to further strengthen the business case for wind and biomass investments.
While these policies have worked in tandem to help increase demand for renewables and create a market, the sector has benefited on the supply side from scale and technology advancements, which have reduced the cost for a wide array of renewables technologies and made them more competitive with established generation