Renewables at a Crossroads
Investment opportunities in an evolving environment.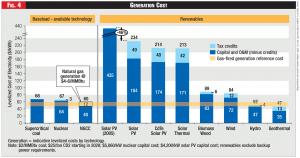 options.
Of all renewables, solar PV has arguably benefited the most in the past couple of years from scale and technology advancements. Solar PV costs have decreased for both thin-film and crystalline silicon technology. Through a combination of technology advancements, assembly automation, and other advantages of scale, First Solar, for example, has driven significant reductions in one thin-film technology in particular—cadmium telluride (CdTe)—which witnessed a 74 percent reduction in module cost (more than $2 per watt) since 2004. This dramatic decline has made the less-efficient CdTe technology a viable large-scale solution for commercial and utility customers. At the same time, the more established crystalline silicon technology—preferred by residential customers with limited roof space—has benefited from advances in manufacturing processes and a shift in manufacturing capacity to lower-cost suppliers in China. These developments helped cut crystalline silicon module costs by 45 percent, or more than $1 per Watt, since 2008.
Though cost reductions have been less immediate and dramatic for other renewables technologies, the overall trend has been quite favorable. New wind installations, for instance, today enjoy a levelized cost of electricity (LCOE) net of tax credits that is roughly on par with supercritical coal and nuclear, even in the absence of a price on carbon emissions ( see Figure 4 ).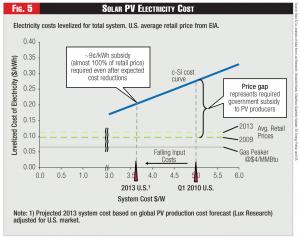 Recognizing a favorable investment environment, private equity and venture capital firms committed increasing amounts of money to the renewables-heavy cleantech sector between 2006 and 2008, exceeding $10 billion at the peak in North America alone. These investors were assured that predictable revenue streams from policy mechanisms such as feed-in tariffs and long-term purchase agreements would help outweigh the technology risk. Investments were also influenced to some degree by a fear of missing out on the next big thing, creating a herd mentality in the market—at least before the global financial crisis hit.
Applying the Brakes
In the wake of the crisis, many of the underlying factors that converged to drive demand for renewables have faded, and others remain highly uncertain.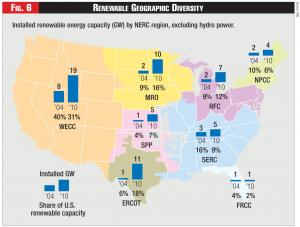 One of the key elements supporting the business case for renewables has been high power prices anchored to high natural gas prices. That dynamic has shifted, now that natural gas prices have retreated due to the economic slowdown and the development of unconventional gas resources; most analysts forecast that natural gas prices will remain below $6 to $7 per million British thermal units (MMBtu) for the foreseeable future. As such, renewables likely will face stiff competition from natural gas generation in markets without revenue-setting FITs.
The worsening economic conditions also have brought a shift in political priorities, favoring budgetary restraint over fresh spending on environmental issues, and some federal subsidies supporting renewables might be sacrificed as a result. The Democrat-controlled lame-duck Congress of December 2010 was able to secure a one-year extension to the ITC cash grant, but a Republican-dominated House of Representatives likely will be far less supportive of such fiscal expansions. While project developers might speed up their plans again this year, fearing a potential lapse of federal subsidies, renewables investment prospects would dampen if the cash grants or