The 40 Best Energy Companies
hot summer likely will help the company maintain solid earnings and cash flow to finance its growth plan.
Going the other direction in the rankings, CLECO returned to the top 40 this year— i.e., the 15th spot—after a one-year absence. The company's rank last year was dragged down by four years of heavy capital spending and negative cash flow. But during 2010 CLECO completed some major projects—including the largest circulating fluidized bed boiler in the country, the 600-MW petroleum coke-fired Madison unit—and in 2009 successfully completed a rate case that rolls those new assets into the rate base. Additionally CLECO closed a $304 million transfer of the $580-million Acadia power plant from an affiliate to CLECO Power, and replaced a tolling agreement for a 775-MW combined cycle plant. The consequence of these transactions was to increase the company's operating income substantially, boosting CLECO back into the upper ranks of the F40.
Other companies on the rise in the F40 include gas companies Piedmont Natural Gas and AGL Resources. Also integrated utility DTE Energy leaped from #29 last year to 17th position this year. All three companies also tell similar tales of falling gas prices, growing assets, and rising cost pressures—but in different and instructive ways.
Fueling Growth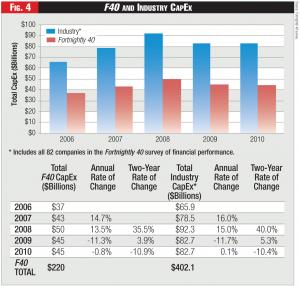 Piedmont Natural Gas went through the second-most dramatic rise in this year's ranking, going from 34th position to 13th, mostly on the strength of strong financial returns and positive free cash flow. Additionally Piedmont has benefited from a solid track record of growth, with assets growing by nearly 12 percent since 2006, and revenues growing by almost 20 percent. These are remarkable numbers for a company that's almost solely focused on retail gas distribution.
"We've been blessed with strong customer growth, about double that of our peers," says David Dzuricky, Piedmont's senior vice president and CFO. "Our markets have been vibrant in all three of the states we serve." Piedmont delivers natural gas to 1 million customers in the Carolinas and Tennessee—most of them in North Carolina. Until the recession began, the company was adding nearly 35,000 customers a year in its residential markets—a 3 percent market growth rate. But the company doesn't expect that residential growth rate to continue. Instead it's seeing rapid growth in the power generation industry, and is investing in pipeline infrastructure to serve power plants.
"Our core markets are down right now, but we've filled that hole with power generation delivery projects," Dzuricky says. "Our cap-ex forecasts are higher than ever, even higher than before the recession. Power generation customers are coming to us not only because of the environmental attractiveness of gas versus coal, but also because pricing is less volatile." Specifically, adding domestic resources outside of the Gulf of Mexico is serving to diversify the gas supply in the United States, and reduce the effects of hurricanes and other factors that can constrain supplies.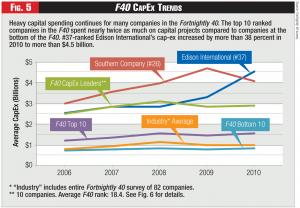 AGL Resources, on the other hand, has succeeded in spite of low natural gas prices, not because of them. "Our storage and trading businesses are troubled by increasing shale gas, because those