The 40 Best Energy Companies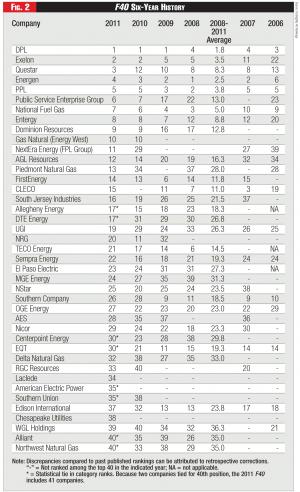 right places, there will be a lot of opportunities," says Jean Reaves-Rollins, managing partner of the C Three Group in Atlanta, which developed the Fortnightly 40 model and provides financial analysis for each year's report. "You've got to have a supportive regulatory environment, but there is growth happening and more to come."
A closer analysis of the industry's leading performers reveals what approaches will be successful for coping with the industry's challenges and pursuing its opportunities.
Chutes & Ladders
Stability reigns not just in this year's top 10, but across the entire survey (see Figure 3) . For the first time in four years, no companies in the F40 ascended in the rankings by more than 50 percent, and only one (CLECO, #15) rose by more than 30 percent. None 1 dropped more than 30 percent, and just two companies (EQT and NRG) fell by more than 20 percent.
The stories of these ascending and descending companies, however, outline a narrative of macro-scale industry trends involving fuel supplies, infrastructure investments and operational strategies. Perhaps the biggest factor affecting several companies is the price of natural gas, driven lower by an expanding bubble of North American shale resources.
EQT's fortunes have followed those prices downward. EQT—which owns more than 1,000 miles of gas pipelines as well as other midstream and upstream assets—is in a four-year run of negative cash flow, resulting from weaker earnings and an aggressive capital construction program. EQT spent nearly $890 million in gas well development last year, mostly in Appalachian shale formations. The company also has a rising debt-service burden, having added $700 million in debt to its balance sheet in 2009. Consequently EQT's F40 rank has fallen from 11 in 2009 to 21 last year and 30 this year—in spite of the company's strong operating profits and returns. Over time, EQT's investments seem likely to position the company for even stronger returns in a gas-hungry market.
NRG's recent history tells a similar story with rather different details. NRG (#20) has maintained a strong positive cash flow, despite a hefty capital budget ranging from $706 to $899 million each year for the past three years. The company is growing its generating portfolio, through acquisitions and new construction. Although NRG failed in its bid to acquire $1.4 billion worth of generating assets from Dynegy last year, CEO David Crane suggested in a subsequent analyst presentation that its buying strategy would continue for the foreseeable future. "I think the absolute best time to be buying combined cycle power plants most probably will be in the first part of 2012," he said. However, low power prices have taken their toll on NRG's operating returns—most of which are derived from wholesale power assets—and kept the company from holding onto last year's #11 rank.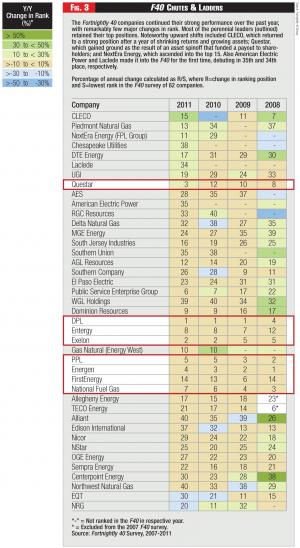 For the future, though, NRG appears to be well positioned for solid performance. Its decision in April 2011—in the wake of the Fukushima-Daiichi nuclear disaster—to scrap plans to build two new nuclear reactors in Texas will help by reducing expenses and cap-ex growth. And strong electricity demand during this year's