Crossing the Threshold
Technology opens customers' homes to utility services.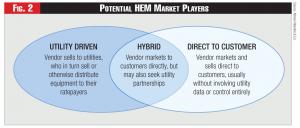 active participation? What new protocols and business functions do we need to build internally or outsource? How do we do all of this in the most cost effective manner possible? Is it still too expensive to be justifiable?
These service model considerations have long been the marketing and service focuses of many of the entrants now being drawn to this attractive new ecosystem— e.g., consumer electronics makers like Sony and Control4; home appliance manufacturers like LG and Samsung; retailers like Best Buy; and communication service providers like Comcast and Verizon.
These alternative hybrid and direct-to-consumer players (see Figure 2) offer well-differentiated products and services and have collectively spent billions of dollars refining product marketing, sales and service models that have become the de-facto standard experience for consumers. In competitive markets, utilities will have to compete against this model. In traditional markets, utilities will have to compete against the expectations that this model has set. What's more, these new market entrants might offer use cases for customers that might not align well with utilities' interests. The key decision makers for many of these new products and services ultimately will be consumers, not utilities.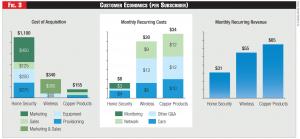 For example, solutions offered by these new entrants that promote efficient and high use of distributed generation might reduce user consumption during low-cost off-peak periods—potentially eroding a utility's revenue base—but they provide no significant mitigation during peaking events. The success of these new entrants threatens utilities' ability to achieve value from this market. If utilities are going to successfully cross beyond the meter and compete in the in-home energy product and service markets, they'll need to consider the full service model and the financial realities of what's achievable.
While there are obvious differences between the electric utility industry and other industries such as broadband or home security, there are also many parallels. Comparing in-home services and the economics from those more mature industries can help utilities to identify areas in the service model that will pose the greatest challenges as in-home product and service markets develop (see Figure 3) .
Marketing Beyond the Meter
Successfully crossing beyond the meter into the home will require robust go-to-market strategies including advanced marketing and intelligence, customer segmentation, pricing strategies and customer-based product development. These requirements significantly change the dynamics for the utility's offering in home products and services.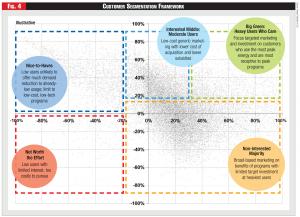 The utility will no longer enjoy an incumbent position and will need to ensure its product and service offerings are as compelling as those of its competitors. While utilities do have significant advantages as energy providers, other market entrants will also bring unique capabilities to the table.
An in-home product or service won't be a commodity, where the only differentiator is price and where the use case is transparent. Utilities will need to acknowledge a variety of customers, preferences and use cases and create flexible options. Targeting the better customers for a given product or service, rather than taking a one-size-fits-all approach, will be crucial.
The in-home product and service market will evolve faster than existing utility businesses do. Utilities can't assume that an