Not Your Grandfather's Utility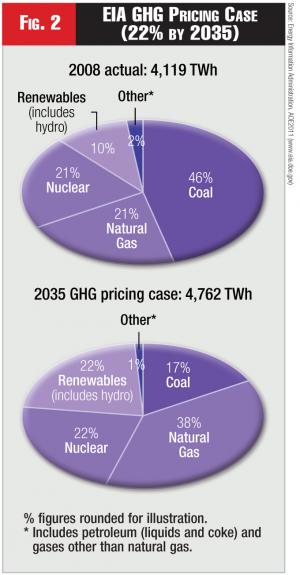 might be delayed or eliminated in coming months.
So is the industry out of the proverbial woods on this matter? Don't even begin to think so.
Safe, Reliable and 'Clean'?
It goes without saying that the electric power industry still must plan for its future in consideration of such issues and because of that, the way in which the industry will plan has changed forever. It's no longer prudent to automatically make that next generation addition the least-cost alternative, for example. And it should be expected that state and federal requirements for renewable energy will become more onerous over the next several years.
Even President Obama has changed course recently, calling for a clean energy standard (CES) rather than an RES. But the effect on planning might be only modestly different. The supposed advantage of planning around a CES will be that certain fuel sources not considered renewable— i.e., clean coal, natural gas, nuclear, etc.—might be acceptable alternatives to helping the nation reach its long-term energy goals. However, we must be cautious in that if the definition of a CES turns out to include true renewables, like wind and solar, in the neighborhood of 15 to 25 percent of the energy mix, we are back to square one on cost concerns.
Such details undoubtedly will come to light in future months as members of Congress find time to grapple with the issue. Clearly, Japan's recent nuclear dilemma has cast another dark cloud over nuclear power and safety concerns in this country, which is unfortunate. Nuclear power is arguably the perfect combination of a climate-friendly—zero GHG emissions—and base-load-capable energy source, yet its growing prominence in the U.S. energy mix very well might be a dead issue for some time to come, if perceptions and fears following the Japan disaster persist.
The good news is that we expect to have far more stability in natural gas prices, and availability of that fuel source, for many years to come. And we know that electricity production from natural gas sources contributes at least one-third less GHG than typical coal-fired generation. So perhaps the build-out paradigm won't need to change as dramatically as it otherwise might.
In its Annual Energy Outlook 2011 , the Department of Energy (DOE) includes a "reference case" that shows a U.S. energy mix in 2035 that isn't greatly different from 2008 actuals (see Figure 1) .
But the report is quick to remind readers that this isn't a prediction of what will happen, only of what could happen. In fact, the report also provides some 57 sensitivity runs in addition to the reference case, one of which is designated "GHG price economywide," which essentially sets a price on carbon as proposed in H.R. 2454 and other recent legislative drafts. In this very plausible case, the U.S. energy mix in 2035 is expected to be vastly different from 2008 actuals (see Figure 2) . While potentially reducing carbon emissions by some 670 million metric tons (MMT) and inducing a 400 terawatt-hour (TWh) reduction in consumption, the GHG price case would also seemingly