Traffic Signal Ahead
Smart grid evolution requires two-way communication—with meters and with customers themselves.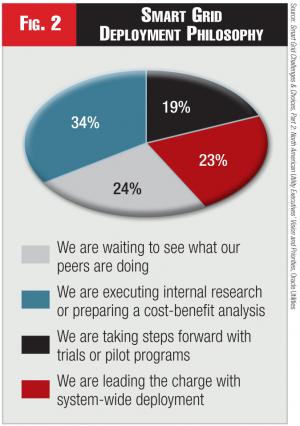 guidance on better ways to reduce their power consumption. Utility executives remain focused on their core values of safety, reliability, and low costs, but as modernization is inevitable for most, it's clear that utilities must exchange information—both with customers and peers—to move smart grid forward. Consumer participation and engagement is critical—and customers must understand what's in it for them. However, smart grid is rapidly changing the way utilities are accustomed to operating, thus making them understandably cautious about taking the next step forward.
Where Do We Go From Here?
According to the survey, many utilities are executing internal research on smart grid, but fewer are taking steps forward with pilot programs. For smart grid deployments, 24 percent of utilities are waiting to see what peers are doing; 34 percent are executing internal research or preparing a cost-benefit analysis; 19 percent are taking steps forward with trials or pilot programs; and 23 percent are leading the charge with system-wide deployments (See Figure 2) . As with any major project, utilities are looking before they leap.
Along those lines, the survey asked executives what specific steps utilities must take to help drive the success of smart grid. Of utilities moving forward with pilot programs or system-wide deployments, 80 percent said that the number-one step was to secure customer buy-in by helping them understand the value proposition of smart grid. Sixty-four percent of utilities waiting or executing internal research agreed. Both categories of utilities agreed that sharing best practices with peers was the number-two step (See Figure 3) .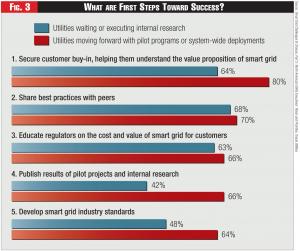 But, are utilities focusing on the right message when communicating smart grid value to customers? Of those who are educating customers, smart grid messages revolve around definitions, benefits, and rate expectations. Some key messages communicated by utility executives include, "Value and reliability; the value of our investment and how it has made their utility more reliable," "What is in it for them; how they will be able to control the usage," as well as "Efficiency, reliability, and cost of ownership. How it is a win-win, not only for them but for us also."
However, while 71 percent of utilities say securing customer buy-in is a key step needed to drive the success of smart grid, just 43 percent say they're educating their customers on smart grid's value proposition—a glaring communication gap (See Figure 4) . Utilities must communicate—early, often, and via new channels—to enable real behavior change and support.
Communication is a Two-way Street
Today, we live in a fast-paced, always-on world, where people live and communicate via texts, Tweets, and iPhone apps. Despite this reality, Oracle's survey revealed that the majority of utilities aren't taking advantage of communication trends like social media, but instead are relying on one-way customer communication via mail and static website content. The methods that most utilities are using to educate and connect with customers are traditional, mail-based communication (76 percent), followed by utility websites (72 percent), e-mail (36 percent), phone calls from a contact center (24 percent), social media, including Facebook, Twitter, etc. (20 percent), mobile phone applications (13 percent),