Interesting Times
Utilities stay the course in a volatile market.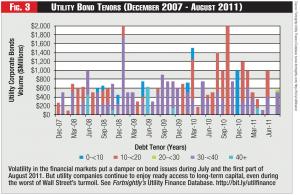 double dip recession. That has driven a rally in Treasuries in spite of the Federal Reserve's quantitative easing program and S&P's downgrade of the U.S. government's credit rating. Investors continue to show tremendous appetite for high quality credits in this uncertain environment. In short, there's been a flight to quality. Buy-side investors are asking for long-dated, high-quality non-financial paper. We've seen nimble issuers accelerate their issuance timetables to take advantage of historically low rates and favorable terms. But given the market uncertainty and volatility, new issue windows have been largely day-to-day. In the utility sector, companies have issued five-year unsecured debt with coupon rates below 2 percent, and 10-year secured notes at around 3 percent.
At the same time, there has been a structural change in the bank market. Pricing for revolving credit has tightened across the ratings spectrum, which has resulted in a number of utilities refinancing their corporate bank facilities over the past year and extending the tenor. However, while supply and demand dynamics have driven the market tighter, we might see a floor in pricing due to regulatory capital changes and increasing cost of funds for lenders.
In terms of equity, the near-term cash benefits associated with bonus depreciation have limited the need for new issuance from the utility sector, outside of acquisition financing. New equity requirements have largely been pushed out by a year or two. This is a timing point, however, and doesn't change the long-term need to right-size companies' balance sheets and fund significant future capital requirements.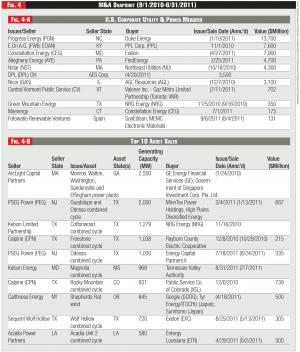 In the secondary market, utilities have maintained their defensive characteristic amidst a selloff in the broader markets, and have become the preferred hiding place for many investors looking for yield. That being said, we're starting to see divergence in valuations within the utility space. The safety bid is now driving intra-sector price movements. Regulated utilities have outperformed hybrid companies, which have outperformed merchant generators, because investors have a strong preference for the largest, most liquid and safest names in the sector—especially those with decoupled regulatory frameworks, which provide protection from declining sales.
The volatility has most affected the high-yield debt market, where new issuance dramatically slowed in August and September. But given all-in cost of debt, it's still attractive in a broader historical context. A number of IPPs took advantage of an attractive new issue window in May and June to restructure their balance sheets.
Bilicic, Lazard: The power and utility industry in general has terrific access to the capital markets. We'd expect that access will continue to be strong and stable for the foreseeable future, particularly for companies that are regulated or mostly regulated. Access will be more intermittent and unpredictable for non-regulated companies, particularly those that aren't publicly traded.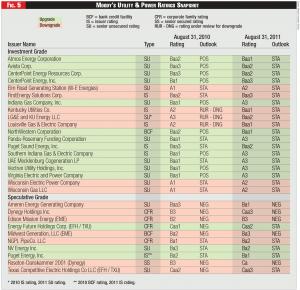 Napolitano, RBC: It's a world of haves and have-nots. The haves are investment-grade utilities, and they can exert their will on the bond buyers market because there's a shortage of paper.
We started the year expecting $40 billion in bond issues for utilities, and the actual numbers are far below that. You can see the same thing on