Solar Leasing Shines
With meters running backwards, utilities seek a niche.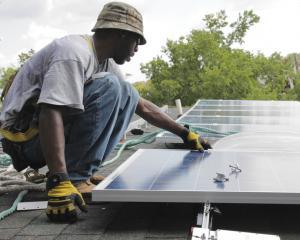 Solar project financing has long proven difficult—for homeowners especially, but also for governments and commercial and industrial (C&I) customers. Now, with third-party financing winning converts, utilities are seen as supportive, yet watchful.
Price is key on the residential side. If costs fall far enough for small-scale installations, and if financing becomes a no-brainer, homeowners could flood utility distribution systems with customer-owned solar, posing operational problems and threatening stranded costs, both for generation and T&D assets.
Ditto for government and C&I installations. And the bigger the installation, the bigger the threat. Utilities haven't yet complained about solar in the way they once did with industrial cogeneration. Yet it's still early. In time, third-party leasing and financing could remake the landscape just as off-balance-sheet project financing paved the way for independent power producers.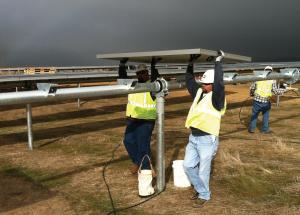 On the plus side, customer solar could help utilities fulfill their obligations under renewable portfolio standards (RPS) without having to fund the capital costs themselves or buy a power purchase agreement. A customer-leased, third-party-installed, and net-metered solar panel comes without any obligation on the utility's part, other than to interconnect and meter it. For a retail utility, this might well look attractive. At the same time, however, the meter is running backwards.
Third-Party Financing
Smart Energy Capital represents the new breed of solar lease financier. The company designs, develops, constructs, and operates solar projects for commercial and government power users, real estate investors, and utilities. It also develops and executes financing.
By the end of 2011, Smart Energy Capital had 40 MW of projects operational—8 MW on the net-metered side (12 schools and eight other government facilities), and 32 MW on the utility side (four projects with Sacramento Municipal Utility District).
"Solar has reached a level of complexity that is difficult to find anywhere else," says Mike Grenier, managing partner. "Especially with the interaction between the technical side, the commercial requirements, tax issues, and the financing.
"We meet a need for institutional investors."
The challenge for such investors, Grenier says, is that solar projects tend to be relatively small. "From an institutional investor's standpoint, even a 20-MW project is a small deal," he states. "They can't afford to do small deals one at a time on their own. They aren't set up to do it, they don't have the expertise to do it, and they wouldn't be efficient at it. This is where we come in." Smart Energy Capital aggregates and underwrites these projects for institutional investors and serves as an ongoing asset manager. The company takes deal sizes that range anywhere between $2 million and $50 million, and aggregates them efficiently, so that investors can deploy capital into an attractive asset class.
"When we talk with institutional investors," Grenier says, "we emphasize that we have a proven technology with a proven operating history and relatively predictable performance over time." The company offers a 20-year stream of contractual cash flow backed by investment-grade entities, making it a low-risk investment, according to