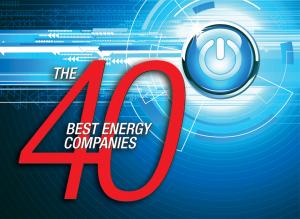 When DTE Energy divested its transmission business back in 2003, the future of independent transmission companies (transcos) looked uncertain. Growing proved to be difficult, because most integrated utilities continued to view their transmission systems as strategic assets—even if FERC rules prohibited using those wires to gain a competitive advantage in wholesale markets  (see " Transcos Reborn ," July 2005) . A few transcos persevered, however, and this year for the first time the  F40 survey includes one of them.
ITC Holdings—successor to DTE's International Transmission Co.—went public in 2005. The company owns transmission systems in several states, most notably Michigan, with major projects under development and construction in the Midwest. ITC's four-year performance fell just short of our top-40 ranks this year  (see Figure 1) . Nevertheless, ITC Holdings brings a unique business model with industry-leading profitability and rapid growth.
Fortnightly spoke with CEO Joseph Welch in August.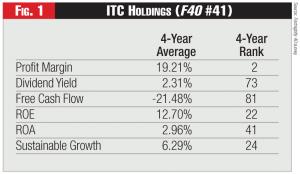 Fortnightly: What makes ITC's business different from other companies in the industry?
Welch:  To make a long story short, we're a market-maker and a reliability maker. That sets the tone for how we manage the company.
When there's a disruption in the system, it costs people hundreds of millions or even billions of dollars. So our top priority is to become best in class in reliability. We're already in the top 10th percentile.
We're not tied to any particular generation source. We're very focused on integrating all generators into our system in a way that makes their power reliable and deliverable in all conditions. We've been able to deliver under storm conditions and peak load conditions, and to maintain a nearly perfect voltage profile across our system.
The customer defines the reliability profile, and it's our job to deliver it.
Fortnightly: ITC has a high debt ratio compared to most utilities, with debt at both the holding company and operating company levels. How does debt fit into your financing?
Welch:  We're conservatively financed and we're keeping our investment-grade rating. We're growing nicely, and compared to some other utilities we don't have a lot of the overhang that comes with owning a generation fleet, such as EPA or Nuclear Regulatory Commission regulations. That means we can go further out on a limb. But our cash-flow metrics are good, and I don't foresee a time when we'd get into trouble with debt. All we'd have to do to stay solvent would be to cut back on our capital program. Of course that would cut off the growth engine, but if we faced a cash crunch we could do that. Retrospectively, when Michigan's economy was suffering badly in 2009 and 2010, we maintained our credit rating and in fact we were upgraded.
As we continue to grow, our assets go to work for us. All of the growth in our five-year plan will come from internally generated cash.
Fortnightly: ITC's assets have almost doubled since 2006, and your five-year plan aims to invest $3.9