Deck:
Five forces are putting the squeeze on electricity consumption.
Author Bio:
Ahmad Faruqui is a principal at The Brattle Group, and Eric Shultz is a research analyst. This article was revised from Faruqui's presentation at the Goldman Sachs Power & Utility Conference on Aug. 14, 2012. The authors acknowledge research assistance by Jennifer Palmer.
Five forces are putting the squeeze on electricity consumption.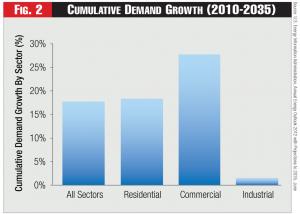 process. Furthermore, the pace and shape of economic recovery will dramatically influence demand growth across North America in the next 10 years. Largely unpredictable economic conditions resulted in a degree of uncertainty in the 2009 and 2010 demand forecasts not typically seen in periods of more stable economic activity. It is vital that the electric industry maintain flexible options for increasing its resource supply in order to respond effectively to rapid, upward changes in forecast electricity requirements and any unforeseen resource development issues."
Some of the recessionary impacts might be permanent. In an effort to cut operational costs to maximize profits, businesses have relocated offshore. Some industrial facilities have closed completely. Right now, people are unemployed, underemployed, or underpaid, thus reducing electric consumption and the purchase of electricity-consuming appliances. The tepid recovery has led to a new psychology of frugality and pessimism about the prospects for the U.S. economy. Such a decrease in consumer confidence, a major driver for consumption, has led to the inevitable drag on consumer spending. Demand forecasters find that even after they put actual economic growth rates in their models and analyze past results, they're still over-estimating demand; consumer demand curves apparently have shifted inwards as consumers engage in belt-tightening. Considerable uncertainty remains over the global and national economy, which will continue to weigh down on demand growth. The recently issued report by the International Monetary Fund (IMF) estimates the U.S. risk of recession in 2013 at 15 percent, and warns that, "U.S. legislators must soon remove the threat of the fiscal cliff and raise the debt ceiling. If they fail to do so, the U.S. economy could fall back into recession."
Demand-Side Management
The increased penetration of demand-side management (DSM) throughout the United States has put downward pressure on demand growth. DSM programs and technologies enable consumers to reduce peak demand and electric energy consumption by providing customers with incentives to buy more energy efficient technologies and to shift demand from peak hours—where the power grid is stressed due to high demand—to off-peak hours. Such peak hours occur during periods of hot weather, for example, when customers crank up air conditioning units. DSM programs often encourage this shift in demand through monetary savings in the form of peak time rebates or other dynamic pricing schemes. These pricing schemes set electric prices highest during peak hours where demand is highest, and prices lowest during off-peak hours where demand is lower.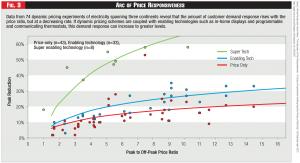 All areas in NERC's forecast are expecting increases in DSM over the next 10 years. In 2021, DSM is projected to reach 55,000 MW, or 4.5 percent of the on-peak resource portfolio. Other estimates are even more optimistic about DSM. In 2010 The Brattle Group polled 50 experts to get their forecasts of demand response and electric energy efficiency savings. The survey indicated that demand response is expected to reduce peak demand by between 7.5 and 15 percent by the year 2020. Dynamic pricing is rolling out, spurred on by pilots and rapid smart meter deployment. California leads the charge, where two major utilities—San Diego Gas & Electric