Deck:
Better to compete from within than fight from afar.
Author Bio:
Kristian Hanelt is senior vice president of renewable capital markets at Clean Power Finance.
We've reached a turning point in how we think about electricity. We're seeing a massive upheaval in how utilities generate, transmit and deliver the product to consumers, with ramifications for everyone connected to the grid. Distributed generation (DG) resources, particularly third-party financed solar installed at the customer premises, are changing not only physical infrastructure but also how consumers relate to their electricity providers and how they use electric power.1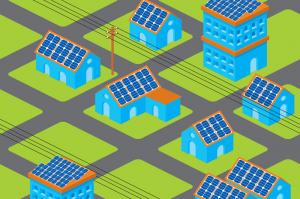 Much has been made recently about utility antagonism toward solar energy – whether DG solar poses an existential threat to utilities. Some utilities see solar as a menace to their business model. They're actively fighting against its mass adoption. Other, more forward-thinking utilities are exploring ways to turn threat to advantage: to incorporate distributed energy resources (DER), including DG solar, in their own product mix to meet evolving customer demands.2
The prevailing view in the solar industry that utilities are uniformly against solar is simplistic; it ignores the fact that electric power companies often have diverse and sometimes conflicting goals. Moreover, it's antagonistic, which prevents both sides from working together and taking advantage of the emerging opportunities.
In truth, utilities have at least several good reasons for becoming third-party owners of DG solar assets – or at least for participating directly within the DG solar industry, instead of fighting it from afar.
The first is the sheer size of the market for refinancing U.S. consumer electricity bills with solar. According to the 2010 U.S. Census, there are approximately 80 million single-family detached homes in the U.S.3 Based on current policies and retail electric rates, approximately 56 million of those households in 31 states could save money by going solar, producing a $6 billion market by 2016 which will continue to grow. The opportunity is enormous, and with less than 1 percent penetration today (around 300,000 single-family homes currently have solar on their roofs), DG solar is just getting started.4
Second, DG solar offers utilities tax benefits and attractive cash returns. Utilities often have large tax bills and thus can take advantage of federal and state incentives in ways homeowners can't. For the next three years, utilities that invest in solar generation assets can claim the 30 percent investment tax credit (ITC), and 10 percent thereafter. At either ITC rate, and in an era of potentially rising interest rates, solar will be a profitable investment (see Figure 1). 
Additionally, DG solar offers third-party owners attractive long-term cash returns. Third-party owned solar contracts would guarantee power companies a stable revenue stream for the length of the contract – typically 20 to 25 years. 
Third, utilities now can claim competencies in areas where solar companies generally can't, such as in billing, collections, monitoring, and operations and maintenance (O&M) for solar systems. These existing capabilities should allow utilities to operate at scale better than solar companies or other third-party owners, to provide the necessary services after system installation.
Finally, utilities are a known entity. They still represent a valuable brand to the millions of homeowners they serve. Yes, they might not be loved unconditionally within their service territories, but they're trusted to keep the lights on, the refrigerator cold, and the elevators running.
Four Business Models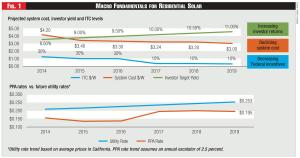 DG solar can be attractive to utilities. But how, exactly, would utilities incorporate DG solar into their businesses? Let's consider four different business models. Some are being tested already. Others would require legislative change to implement. Yet each can allow utilities to profit from solar and adapt to the changing electric demands of their customers. 
• Owning outside the fence: Utilities can engage with (and profit from) solar by becoming third-party owners of DG solar generation assets outside their regulated service territories, or in deregulated markets. Several utility holding companies around the U.S. already are pursuing this model. In this scenario, utilities own rooftop solar systems through an unregulated business; the homeowners or businesses on whose roofs the systems sit then pay monthly for the power the system produces under a PPA or lease. In essence, this type of third-party ownership model allows homeowners to refinance their electricity bills with solar and simultaneously provides the solar system owner (the utility holding company) with a stable revenue stream of 20 to 25 years.
This model gets even more interesting in deregulated electricity markets.  There are tens of millions of customers in deregulated markets around the U.S., particularly concentrated in states such as Texas and in much of the Northeast. In these deregulated markets, electricity suppliers spend millions of dollars competing to retain customers in a commoditized market. Solar leasing can be an effective tool to secure and retain an electricity supply relationship with a homeowner for the foreseeable future. That relationship can be leveraged across both the electricity coming from the homeowner's roof and the electricity coming from the grid.
• O&M services inside the fence: Utilities have decades of experience managing energy generation assets and consumers within their regulated service territories. Consumers have come to expect power 24 hours a day, seven days a week, 365 days a year from their utilities. They also expect utilities to resolve power issues, to such an extent that even solar customers often call their utility first when they have power concerns. 
O&M is crucial to the long-term performance of any energy generation asset, including solar PV systems. Most utilities have large-scale O&M capabilities and investment grade ratings, both of which the solar industry lacks and sorely needs. Most solar companies don't have the size or incentive to provide large-sale O&M services, preferring instead to use their resources on new installations, which command higher margins. The lack of large and credible O&M providers deters investment in solar both by homeowners and by capital providers, which in turn drives up the cost of customer acquisition and financing. By leveraging their large fleets of boots and trucks, utilities can drive down the cost of solar and accelerate adoption faster than any current solar company. And utilities conceivably could add an expense item on a solar customer's bill for O&M and monitoring services at some point in the future.
• Aggregating local businesses: One of the biggest constraints to financing solar, particularly small commercial systems of less than 1 MW, has been getting banks to approve the credit of a potential lessee. A local utility is often the entity best-suited to judge whether a commercial customer is going to be a good lessee for 20 years. Much of this judgment comes from evaluating not just the business itself, but the building occupied by the business.  If the building occupant is going to save money by going solar and the lessor is confident the building is going to be occupied due its location and quality, then the credit of the lessee itself becomes less important.
Additionally, utilities can profit from allowing small business to go solar by leveraging their local knowledge and investment grade rating. Imagine that a utility signs a power purchase agreement (PPA) with a large bank that invests in solar plants. The utility agrees to pay $100 per megawatt hour for electricity produced by solar systems that the bank owns. The utility then approaches local businesses, signs sub-PPA agreements with them, and manages the installation of these systems. When a system is complete, the bank pays for it and sells the utility the power at $100 per megawatt hour. The utility can then charge the business a different rate for the solar power under the sub-PPA, up to the retail rate for electricity that customer is already paying.  The utility keeps the difference in electricity rates, thereby profiting from being a credit intermediary, a solar marketer, and a power plant service provider.
• Owning inside the fence: Although this model would require an investor-owned utility to secure approval in advance from the state public utility commission, discussions around it are gaining traction in certain areas of the country. It allows utilities to leverage their brands and retain customer load. Instead of losing customers and load to third-party solar financiers, utilities themselves could own DG solar within their regulated service territories and sell the solar output directly to retail customers. Major utilities are already considering the model. In late November 2011, Dominion Virginia Power (part of Dominion Resources) submitted a regulatory filing in Virginia asking the State Corporation Commission for permission to sell solar inside its regulated territory.5
Utilities allowed to invest inside their regulated territories could benefit in myriad ways: they could build out their own sales forces to sell solar, or they could partner with, license their brand to or even acquire major solar companies to sell in their territories and handle the solar installations. Paying a third party for solar is a much bigger leap in a homeowner's mind than continuing to pay his utility for a different source of power. Furthermore, utilities could cross-sell consumers other products and services, such as energy efficiency technology, back-up power or storage, or shared community solar for apartment complexes or people who rent their homes. 
Get Ahead of the Game
Today's electric infrastructure has barely changed at all since the late 19th century. It's difficult to imagine any other consumer technology that has survived in essentially the same form over all those years, in seeming defiance of economic, demographic, social, and technological changes. Indeed, none come to mind. The electric industry can't hope to remain immutable for much longer. 
Yet building a new industry infrastructure takes time. The models proposed here offer just a sample of possible strategies, both for the mass adoption of DG solar and the continued sustainability of utilities. 
The electric power industry of the future won't be exclusive to a single type of generation model. Thanks to declining technology costs, DG solar penetration in the U.S. is growing at a rapid pace. Utilities now have a choice: to invest today to educate themselves about – and profit from – DG solar, or to dig in their heels and fight. A recent, widely circulated report from the Edison Electric Institute (EEI) compared the current situation with the changes in the telephone industry over the last four decades. Specifically, the report noted, "those telecom providers that have embraced new technologies and addressed the competitive threats they faced have managed to survive and to protect investors from a "Kodak moment."6
Moreover, contrary to what some heel-diggers contend, DG solar's expansion won't be slowed by technical limitations. According to an EPRI study, "EPRI Smart Grid Demonstration Initiative: 4 Year Update" from 2012, solar can actually reduce the strain on the grid. We need only look at Germany for proof that existing grids can support massive deployment of DG solar penetration: according to a 2012 New York Times article, more than a million Germans had installed solar panels on their homes – without changes or disruption to the grid. Advances in smart grid technologies will further streamline complimentary use of both centralized and distributed generation. The inexorable adoption of DG solar and the smart grid is going to put pressure on utilities to adapt their business models to maintain their service standards.  
Utilities that invest in DG solar early could corner the expanding market: the knowledge they gain from being first movers will deliver significant advantages over later adopters. Increasing and inexorable penetration of DG assets requires utility-solar cooperation and innovation if utilities are to meet shareholder and customer demands. Utilities that regard solar as an existential threat are in for a very rough ride. DG solar is here to stay: with many possible avenues for engagement and profit, utilities should view solar as an opportunity, not a threat.
Endnotes:
1. For the purposes of this article, DG solar will refer specifically to third-party owned residential solar.
2. "Utility" refers to both utility holding companies and also regulated utilities.
3. U.S. Census Bureau, American FactFinder website.
4. SEIA (Solar Energy Industries Association) website.
5. Virginia Corporation Commission News Release, Nov. 28, 2012: "The Virginia State Corporation Commission approved Dominion Virginia Power's Solar Partnership Program (addressed by the SCC as the "Community Solar Power Program") on Nov. 28, 2012, allowing the construction and operation of company-owned solar generation facilities at various commercial, industrial and public government locations."
6. Edison Electric Institute, "Disruptive Challenges: Financial Implications and Strategic Responses to a Changing Retail Electric Business." January 2013.