Deck:
The experts do battle over capacity market design.
Author Bio:
Bruce W. Radford is publisher of Public Utilities Fortnightly. Contact him at radford@pur.com.
Back in late September, the Federal Energy Regulatory Commission gathered some two dozen experts to explain to FERC what capacity markets ought to look like, and if needed, to recommend new policies.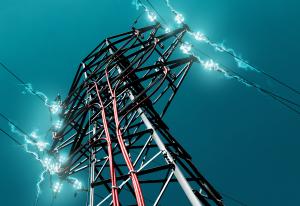 The group arrived with lofty credentials, prompting junior Commissioner Tony Clark to salute all the "regulatory geeks" that had come to Washington:
"It's not often we get together in the same room to pick the brains of some of the smartest minds in the country."
But his colleague, Cheryl LaFleur – and recently tabbed as the new interim FERC chairman by outgoing head Jon Wellinghoff – wondered what exactly had been learned after a full day of discussion:
"About the only thing your testimonies have in common," she observed, "is maybe that none of the markets are getting the prices right … Does anyone have any suggestions as to what we should do?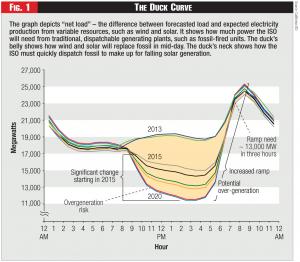 "Or we can go back to being like the blind man and the elephant, only eight hours smarter."
Yet perhaps LaFleur struck the wrong metaphor. Forget the pachyderm. Rather, think of capacity markets as looking less like an elephant, and more like a duck.
Or "duck curve," to be more specific.
According to Phil Pettingill, director of state regulatory strategy for the California ISO, who spoke with Fortnightly in November, the duck curve first emerged as a policy driver at least as early as this past February, when Cal-ISO and the California Public Utilities Commission (CPUC) had convened a "summit" on long-term resource adequacy. But it really caught fire in July, he explained. That's when FERC held a technical conference in Sacramento to discuss what to do after it had rejected1 the CAL-ISO's FLRR plan (flexible capacity and local reliability resource retention), which would've imposed what some called a "tax" on power customers to ensure resource adequacy against the risk of plant retirements.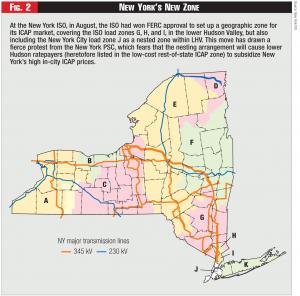 In simple terms, the "duck" shows how the large influx of variable and intermittent renewable resources expected in California in the next few years will put a premium on ramping – the ability of traditional, dispatchable generators to increase or reduce output at various predictable times of day to offset spikes or troughs in solar and wind output. And if fossil generation can't ramp fast enough, it might prove necessary, as some have warned, to curtail wind or even solar early in the day, in favor of gas, so that traditional, dispatchable resources are on-line and firing when renewable energy output falls as afternoon turns to evening. (See Figure 1.)
Word of the duck quickly made its way back East. The concept figured prominently in FERC's September conference on capacity markets, in large part due to a study the FERC staff had released a few weeks earlier, in late August.
The FERC staff study presented a primer on capacity markets, from A to Z. It had outlined current market designs in PJM, ISO New England, and the New York ISO, along with some key ideas for reform, in especially in terms of how to define the capacity product that's bought and sold in those regional markets.2
But the staff report also noted that power system operators were beginning to think about defining the capacity product "more granularly," to better reflect real-world needs: e.g., quick-start and fast-ramping capability; regulation and load-following capability; fuel risk, such as from heavy reliance on gas-fired generation; resource diversity needs (too much demand response?); and even political mandates, such as renewable portfolio standards, or a certain array of resources favored under state-approved integrated resource plans.
Thus, the staff report helped prompt a fierce debate at the September conference on whether regional capacity markets at the eastern ISOs ought to include separate bid tranches for some of these resource categories.
Commissioner LaFleur launched the debate in earnest after the lunch break, at the 4½ hour mark:
"The concept of promoting a specific resource is in direct tension with the concept of a technology neutral capacity market. What about having separate tranches, like a base-load tranche, a green tranche, a ramping tranche? We get comments on that."
Untenable Complexity
Closer to the start of the conference, David Patton of Potomac Economics (which serves as independent market monitor for ISO New England and the New York ISO) proposed that capacity markets must include three elements: 1) locational pricing, 2) a downward-sloping demand curve, and 3) supply- and buyer-side mitigation to guard against exercise of market power. This third element typically results in a mandatory ceiling and floor for bids submitted by players that fail to qualify for an exemption from bid mitigation.
Patton mentioned a multi-year forward commitment as "important," but not essential. This last distinction was noteworthy, as New England's Forward Capacity Market stands alone as still maintaining a vertical, rather than sloping demand curve, while the New York's ICAP remains the only Eastern capacity market that doesn't look forward in years, as it commits resources only six months ahead.
No one at the conference much questioned locational pricing. But Patton's other points drew comment.
For example, when asked point blank by FERC Commissioner Clark about progress in stakeholder discussions, Robert Ethier, ISO-NE's v.p. of market development, assured Clark that "we expect sometime next year to approach FERC and propose a sloped demand curve."
Regarding a multi-year forward commitment, Rana Mukerji, the NY ISO's senior v.p. for market structures noted, "We've considered going to a forward market [but] decided against that because [it] tends to over-procure."
And that was the same conclusion that Scott Harvey, William Hogan, and Susan Pope had drawn in March of this year, in a study they prepared to offer policy recommendations to the New York ISO:
"[T]he planning process used to determine capacity targets under such a forward procurement process [similar to PJM's three-year forward commitment] would have the potential to systematically increase the amount of capacity procured relative to the current capacity market design, thereby increasing the cost of power out of proportion to the increase in reliability.3
But on the question of buyer-side mitigation, Murkerji conceded that New York's policy had proven problematic over the years – "much more difficult … has sparked a lot of controversy." He suggested that New York perhaps could think about eliminating buyer-side mitigation in the case of merchant generation plants that have no rate base support.
Seconding that motion, albeit from the PJM footprint, was Ed Tatum, v.p. for RTO and regulatory affairs at Old Dominion Electric Co-op:
"Stop looking behind every tree for buyer-side monopsony power."
But on the key question – tranches in RTO capacity markets – the overwhelming sentiment was "no."
James Wilson, of Wilson Energy Economics: "Count me among the purists who feel that capacity markets should focus on peak scarcity … rather than branch out into tranches."
Peter Crampton, professor of economics, University of Maryland: "the idea of tranches in capacity markets is a nightmare. Now you will need a demand curve for each tranche."
Sue Kelly, general counsel and sr. v.p., policy analysis, American Public Power Association: "There is a diversity of opinion within my own membership. There is interest in tranches in some regions… [but] … I am personally worried about arbitraging between these markets. And tranches just means more markets for arbitrage."
Robert Ethier, ISO-NE: "Is the purpose to price discriminate, so that one resource gets paid more than another? My belief is that tranches are not necessary to get all of the resource attributes that you need. A year and a half ago [we] considered this idea, but moved on."
Also, as shown by past rulings, the commission has insisted on a MOPR (minimum offer price rule) to ensure that state-sponsored resources or OOM (out-of-market) generators can't use rate base support or other guaranteed revenue streams to subsidize below-market supply offers that might depress prices artificially in regional capacity markets.
Yet if FERC should mandate bidding tranches in capacity markets, in essence creating a carve-out for certain resource categories, might that also push prices down, creating the same unwanted effect of a subsidized, state-sponsored project?
Commissioner LaFleur admitted as such:
"What about the idea that renewables are … granted a MOPR exemption? Even though intent is good – no intent to manipulate pricing – don't these resources have the same price-lowering effect as a different state-sponsored resource introduced into the market specifically to lower the capacity prices?"
"Yes, you're right," answered Robert Erwin, general counsel for the Maryland Public Service Commission which, along with New Jersey, has attempted in the past to sponsor out-of-market resources to help force down capacity prices.
"But that's no different," he added, " than when a state imposes an environmental rule that forces a dirty plant to close and therefore has the effect of raising the clearing price, because a more expensive plant takes its place."
Even the former FERC Commissioner William Massey, speaking for the COMPETE Coalition, a staunch advocate of competitive power markets, was inclined to concede the point:
"The effect is the same, in theory."
Instead of tranches, the experts said the industry would be better off relying on spot energy markets, which, they explained, are more attuned to the physical, locational, and temporal needs of resource adequacy.
But are energy prices high enough? Many felt not, challenging FERC and the ISOs to concentrate on scarcity pricing rules. Even Michael Hogan, representing the Regulatory Assistance Project, admitted that if you get scarcity pricing right in the energy market, "the argument for capacity markets gets pretty thin."
Yet FERC commissioner John Norris hit the nail on the head:
"We know there is political opposition to letting prices rise in the energy market. So which is it: political problems or untenable complexity?"
Most experts favored the first option – to get prices "right." Prompting a this answer from Sue Kelly:
"Get the prices right? This worries me.
"It's like Paul Newman, in prison [in Cool Hand Luke, the 1960s-era film] and being told he has to 'get his mind right.'
"It makes me all the more desirous of having a physical hedge against those prices by contracting forward."
But Ethier, from ISO-NE, whose panel had finished its work in the morning session, now rose from far back in the meeting room, where he was sitting in the audience, and grabbed a microphone so that he could join the discussion and put in his plug for solving the problem through spot energy and reserves markets.
"It's a false choice," he argued, "to say, 'do we need to do it spot, or do it forward."
Even if you have some way, as he explained, to ensure resource flexibility in the capacity market, then you still need a robust spot market, he said, "to cash out your position."
Said Ethier: "At a minimum, we need to do it spot. The question, then, is do we need to do it also forward."
New York to California
And yet the September conference doesn't tell the whole story.
In November, it seemed, nearly all the nation's regional grids were involved in some way or another in fierce debates over capacity markets.
In New York, the ISO was still working through the details of a recent FERC order that authorized formation of a new ICAP market zone – with all the implications that could have for the traditionally high-priced New York in-city zone.
And in California, the ISO and the CPUC were agreeing (perhaps for the first time ever) to work together toward adopting a market-based backstop for resource adequacy.
At the New York ISO, in August, the ISO won FERC approval to set up a geographic zone for its ICAP market, covering the ISO load zones G, H, and I in the lower Hudson Valley (see Figure 2), but also including the New York City load zone J as a "nested" zone within LHV.4
But this move has drawn ire from the New York PSC, which fears that the move will simply cause the traditionally high ICAP prices in New York's In-City Zone J to be exported to lower Hudson ratepayers (heretofore listed in the low-cost "rest of state" ICAP zone) to subsidize New York's high in-city ICAP prices. In a rehearing request, the PSC claimed that without some sort of phase-in to soften the blow, retail consumer rates in the lower Hudson could climb as much as 25 percent on implementation of the new zone.5 Central Hudson Gas & Electric wrote of "rapidly approaching rate shock," warning of wholesale capacity increases as much as 475 percent.6
Also, the PSC has asked FERC to instruct the ISO to develop a new tariff that would create a process for disassembling the new zone. The PSC claims that good cause might arise later for unmaking the zone if Gov. Andrew Cuomo's "Energy Highway Blueprint" comes to fruition, resulting in construction of new transmission facilities that could remove the North-South constraints that led the ISO to create the zone in the first place.
According to NYISO's Mukerji who spoke with Fortnightly on November 25, the PSC's complaints didn't come out of the blue. The ISO had been well aware of possible effects on retail rates, but thought it better "to remain silent" on that until the PSC could quantify the numbers. And so, in late October, after the numbers had come in, the ISO moved quickly to soften any untoward rate effects by proposing phase-in of price effects on the G-J zonal locality, describing it as "necessary to ameliorate effects on consumers."7
As Mukerji adds, transmission constraints leading from upstate to South of Albany have been known for quite some time: "The LHV Zone should've been created six or seven years ago," he says.
Now that the new zone has been formed, however, he acknowledges that the ISO plans to take another look, convening talks with stakeholders next year to explore ideas, including the notion of a possible tariff rule to govern the unmaking of zones.
Of course, much could depend upon the progress of the governor's EHB grid initiative. As an ISO spokesman also told Fortnightly, "we remain fully supportive of the governor's energy highway proposal."
Meanwhile, just before Thanksgiving, as this issue was going to press, the FERC announced its ruling in Hudson Trans. Partners v. NY ISO,8 the case that Ed Krapels and William Hollaway write about in this issue in their feature article, "Category Error" (p.44). As reported by the commission staff, the FERC order affirms the ISO's underlying decision to apply buyer-side market mitigation (a sort of bid floor) to HTP's new merchant transmission facility, but grants the complaint to the extent that it requires the ISO to provide a more complete and detailed explanation of the mathematical factors built into the mitigation process.
On the other coast, on November 8, the California PUC announced a "joint reliability plan," executed with the Cal-ISO, whereby two agencies would cooperate on efforts to work toward advancing three separate initiatives: 1) to extend the CPUC's resource adequacy program, to possibly create a two- to three-year forward procurement obligation; 2) to conduct a joint CPUC-ISO resource adequacy planning assessment up to 10 years forward; and 3) to launch a stakeholder process to explore development of a "reliability services auction" – a market-based backstop at the ISO for capacity procurement. As Pettingill told Fortnightly, the RSA would resemble to some extent the residual capacity auction adopted by the Midcontinent ISO to back up bilateral capacity procurement, but that California's RSA, contrary to the MISO program, wouldn't be voluntary.
And this new move from California shows how the Cal-ISO wants to avoid the conflicts seen Back East, where states, such as Maryland and New Jersey have battled PJM for primacy in resource planning, also as documented this issue in the article, "Partnership, Not Preemption," by Messrs. Roach, Mossburg, and Musco (p.34).
Pettingill adds that the joint PUC-ISO effort to develop a market-based yet residual capacity auction was very much informed by such conflicts:
"In various ways," he notes, "FERC has communicated to us that we need to come up with a proposal that the PUC could support."
No Excuses
In New England, at a meeting on November 15, the NEPOOL Markets Committee voted against a comprehensive proposal by ISO management to adopt a new performance incentive structure for the region's Forward Capacity Market (FCM). As proposed, the new regime would both reward and penalize resource owners, if they should exceed or fall short of their capacity supply obligations, as measured by way of comparison of the performance of their peers. ISO management has long pushed for such reform, especially as a way to counter the risk of the region's over-dependence on gas-fired generation.
The ISO's failure to get the proposal past appears to stem from two factors: a) worries about the cost of the program; and b) insistence from power producers that they deserve some sort of exemption or waiver from the performance standard if their failure to perform comes because ISO actions limited their output.
Of course, it's widely known that last winter the New England region found itself engaged in a dangerous dance with a reliability collapse. As we noted in April's Commission Watch column,9 ("No Fuel, No Power"), ISO New England reported in February that of the 36 largest electric system contingency events recorded over the three prior years, the response rate for the region's non-hydro resources that were dispatched to meet those contingencies (largely fast-starting resources and spinning reserves) totaled less than 60 percent of what the ISO had requested.
But now we learn that the problem extends into the summer peak as well.
In his written statement at the FERC's September conference on capacity markets, Ethier explained how ISO New England had found itself in much the same sort of trouble this past summer during a heat wave that stretched from Monday, July 15, to Friday, July 19 – a time when the region's gas-fired generators obviously wouldn't face competition from winter space-heating load.
As Ethier explained, on that Friday the regional system was short of reserves for roughly five hours despite having excess capacity as measured nominally by "steel in the ground." That's because, as Ethier reports, when the ISO had sent out start orders to generators, nearly 15 percent of resources having capacity supply obligations proved to be unavailable.
"At the peak hour," he writes, the deficiency was 547 MW, nearly 25 percent of the reserve requirement of 2,374 MW.
Back in July, Robert Stoddard of Charles River Associates had raised alarms that the ISO's new performance incentive plan could lead to annual cost increases for the region's FCM "likely to range between $1 billion and $4 billion," owing in part to the higher risk of taking on a capacity supply obligation.10
But those warnings were countered by a later study from the Analysis Group finding that annual FCM costs – and that's total costs, not an increment of increase – would range only from $1.56 billion to $1.86 billion, depending upon the particular scenario, if any, governing natural gas shortage. According to the study, such totals would represent increases in total FCM costs ranging from 25 percent to 49 percent, across the various gas supply scenarios.11
According to Ethier, the ISO wants the FCM performance incentive plan to work like an energy-only market, with no excuses:
"It does not matter why you did not perform when needed – if you perform you get paid, otherwise you get nothing."
In late November, a spokesperson from ISO-NE told Fortnightly that the ISO would present its proposal again, this time to the NEPOOL Participants Committee, for a vote at a meeting to be held December 6.
Unsustainable
On November 21, the PJM Markets and Reliability Committee approved a tariff proposal titled, "Demand Response as an Operational Capacity Resource" – a move that will require DR suppliers to incorporate an energy strike price in their supply bids offered in the region's capacity market, known as the RPM (Reliability Pricing Model). Under this new tariff, PJM grid operators may call on so-called "limited" DR as soon as constraints start to bind, and prices begin to climb, without having to wait for a reserves emergency to be declared – thus integrating DR into the resource mix with full diversity, instead of as an all-or-nothing block that leaves operators without fully flexible options.
This initiative was one of four proposed changes to RPM announced by Andy Ott, PJM's executive v.p. of markets, in a media briefing on November 15. The other reforms would address capacity imports, anomalous RPM price relationships between certain DR categories, and questionable bidding behavior, suggesting that some capacity supply offers might be purely speculative. That belief stems from analysis by PJM that resource owners, having first cleared in the RPM in the three-year forward base residual auction, are then later attempting to buy out their capacity supply obligations in the incremental auctions, which are staged closer to the delivery year.
A spokesman from PJM who talked with Fortnightly on November 22 said the DR operational proposal will now move to the full members committee where, if endorsed, it will then proceed to the PJM board for approval and a possible tariff filing at FERC. Meanwhile, the spokesman added, the bidding behavior issue, known in PJM parlance as the "replacement capacity" issue, and which was scheduled initially to be presented to the members committee for endorsement on December 13, will instead be returned to the capacity senior task force, which will attempt to forge more precise tariff language.
Importantly, PJM's Ott took time at the September FERC conference to emphasize the importance of the DR operational initiative, explaining how, at present, without the needed reform, the DR resources cleared in the PJM RPM are dragging down the diversity of the region's resource mix:
"To some extent," as Ott testified in September, "we are victims of our own success.
"We have 14,000 MW of demand response … [clearing in RPM] … but 13,000 of it gives us only two hours' notice and the same price. So I have an 8 to 9 percent resource block that all looks the same.
"We can't sustain that."
Endnotes:
1. Dkt. ER13-550, Mar. 29, 2013, 142 FERC ¶61,248.
2. Centralized Capacity Market Design Elements, FERC Dkt. AD13-7, Aug. 23, 2013.
3. Evaluation of the New York Capacity Market, FTI Consulting, March 2013, exec. summary, p. xii.
4. Dkt. ER1380, Aug. 13, 2013, 144 FERC ¶61,126.
5. Request for Rehearing, pp. 5, 9-10, FERC Dkt. ER13-1380-001, Sept. 12, 2013.
6. Request for Rehearing, pp. 2, 8-9, 15, FERC dkt. ER13-1380-002, filed Sept. 12, 2013.
7. Request for Partial Reconsideration, FERC Kt. ER13-1380-000, filed Oct. 28, 2013.
8. Dkt. EL12-98, Nov. 21, 2013, 145 FERC ¶61,156.
9. "No Fuel, No Power," Public Utilities Fortnightly, April 2013, p. 20.
10. Performance Incentives in ISO New England's Forward Capacity Market, pp. 11-12, study prepared for NextEra Energy Resources, CRA Project D18053-01, July 2, 2013.
11. Assessment of the Impact of ISO-NE's Proposed Forward Capacity Market Performance Incentives, by Todd Schatzki and Paul Hibbard, The Analysis Group, September 2013, p. 4.