Deck:
SW Utilities Show Efficiency Benefits
Author Bio:
Suzanne Pletcher is Director of Communications for the Southwest Energy Efficiency Project (SWEEP), where she works to share SWEEP's marketplace analyses and support proactive public policy in the region. She is an award-winning public relations and investor relations professional and former journalist who founded the Boulder County Business Report in Colorado.
Electric utilities across the country are investing in energy efficiency more than ever before. But what's the broad return on those investments?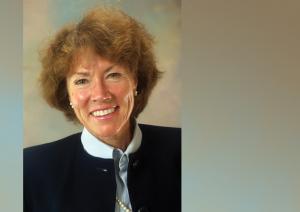 If the benefits from investments during 2008-2015 in the Southwest are any indication, those utilities are entitled to a bit of chest pounding.
"Utilities in the Southwest offered education, technical assistance and rebates, and households and businesses responded by buying millions of energy-efficient lights, appliances, building and industrial upgrades," said Howard Geller, executive director of the Southwest Energy Efficiency Project. "The energy savings and associated benefits add up."
The Project's utility program staff crunched the numbers from the most recent eight years of annual reports of the major utilities in the region. They produced a benefits overview and individual fact sheets for Arizona, Colorado, New Mexico, Nevada and Utah.
One key finding: The southwest region saw more energy savings generated from utility energy efficiency programs as of 2015 than was generated from solar power facilities, including both distributed and utility-scale.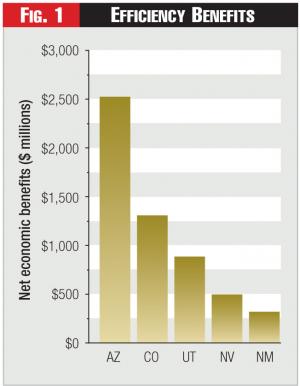 Arizona's three major utilities, Arizona Public Service Company, Salt River Project, and Tucson Electric Power together contributed 44 percent of the region's total energy savings. Xcel Energy and Black Hills Energy in Colorado contributed 20 percent.
Arizona Public Service Company and Tucson Electric Power are required to save energy under Arizona's Energy Efficiency Standards. Salt River Project voluntarily set its own high bar for savings from energy efficiency programs.
Another key finding was that customers saved a whopping 5.5 billion dollars from programs offered during the eight-year period, according to the utilities' own data.
There were other regional benefits as a result of southwest utilities boosting their investments in energy efficiency from 150 million dollars in 2008 to 360 million dollars in 2015.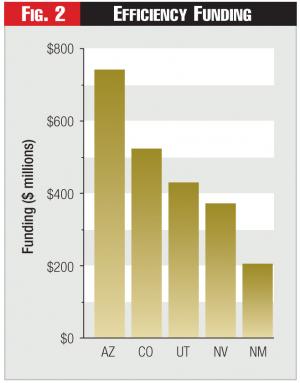 Carbon dioxide emissions fell by an estimated nine million metric tons in 2015. That's the equivalent of taking about 1.7 million typical passenger vehicles off the road.
Coal-fired and natural gas-fired power plants are still the primary source of electric power in the Southwest. Energy savings reduced emissions of air pollutants, particulates and heavy metals.
These reductions improve public health and, an important factor in the Southwest, reduce haze in national parks and monuments. They are the crown jewels of the region in terms of both natural splendor and local economies.
An estimated six billion gallons of water used for power plant cooling was saved. This is a critical benefit in the arid Southwest.
And utilities in the region avoided having to build seven new baseload power plants of three hundred megawatts each. Also, customers won't have to pay for them or the associated transmission infrastructure.
While the details vary, these broad benefits from the Southwest apply in many other states. But some states, including Wyoming, are lagging.
It's been a long process of planning, utility commission approval and program management. It's nice to step back, crunch the numbers, and learn there's a quantifiable contribution that energy efficiency investments provide to utilities, their customers and communities.