2nd Annual Business Continuity & Emergency Preparedness Conf.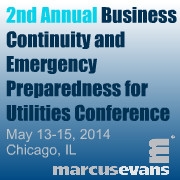 Tuesday, May 13, 2014
to
Thursday, May 15, 2014
The meeting will cover lessons learned in business continuity and emergency response planning, ICS implementation, mutual assistance, cyber security threats, regulatory impacts and the aging workforce, among others. This conference will bring together key industry professionals to create an environment for benchmarking and knowledge sharing on key disaster recovery best practices.
Via case study presentations, Heads of Business Continuity and Emergency Preparedness from leading Electric and Gas Utility Companies will put a heightened focus on business continuity and disaster recovery planning to better fit the unique needs of their industry and to minimize threats and critical incidents.