Natural Gas Power Generation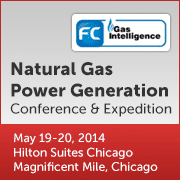 Monday, May 19, 2014
to
Tuesday, May 20, 2014
The Natural Gas Power Generation Conference & Exhibition is the premier meeting place for US utilities and IPPs with plans to construct new or expand/maintain their existing gas-fired generation assets.
The event is specifically focused on natural gas as a solution for the future of US power generation.
It will tackle the key issues relating to gas power and provide solutions and commercial strategy tips to the power generation industry. 
Don't miss out on the chance to meet with 150+ senior-level decision makers from the market leading utilities and IPPs, like Calpine, Exelon and Entergy. Benefit from involvement from across the entire value chain of gas-fired power, including gas suppliers, service and equipment providers, regulators as well as main delegate of utilities/IPPs. With natural gas being heralded as the future of US power, can you afford not to attend?
For information contact Jessica Allen – Jessica@fc-gi.com