On the Origin of Markets: Electricity Evolution in the U.K.
A story of power, pools, and parallels with the U.S. experience.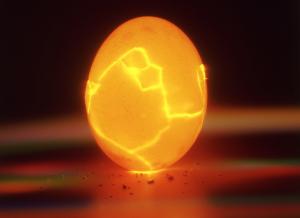 When you log onto the website of Innogy America, an apropos quotation from American writer and editor Edgar Watson Howe floats, a few words at a time, into visibility to the electronic beat of what is known in radio formatting as smooth jazz:
A good scare ... is worth more to a man ... than good advice.
Obviously, the company is referring to the difficult situation in which deregulation in the United States finds itself. But the quote, while from an American writer, could suggest another sentiment originating in the Old World. That sentiment is that Innogy-formerly National Power, and one of the United Kingdom's two largest power producers-already has been there, done that in the United Kingdom, where industry regulators and participants are a full decade into privatization-yet still are working on getting it right.
An overriding message coming from the United Kingdom, in fact, is growing louder, yet it is a concept that has yet to be internalized or even debated to any great extent on this side of the Atlantic: Industry restructuring is an evolutionary process, not a switch-it-on, one-time event, as is generally assumed in this country. Almost seeking to draw up some sort of evolutionary parallel continuum, some experts with experience in UK markets have been assessing possible analogies between recent events in the United States and similar occurrences in the United Kingdom that already have come and gone in the last few years.
David Thomlinson, managing partner of North American utilities practice at Accenture, finds the parallels intriguing. Now working on this side of the Atlantic, Thomlinson was involved in United Kingdom and other European markets until a few months ago. "Essentially, it's quite interesting if you look at the developments in the United Kingdom. The competitive wholesale market was introduced about 10 years ago in 1991, and one interesting comparison is the interventions made in the United Kingdom market in comparison to some of the discussions around California ... ," he says, alluding to debated topics such as price caps.
Indeed, it is sometimes difficult to discern from which side of the Atlantic many quotations originate: "The previous Pool arrangement was deeply flawed-it was effectively a means of generators setting a wholesale price which suppliers and large consumers had little choice but to accept. It was no better than a generators' club."
Does the quotation come from anxious regulators criticizing the California Power Exchange? Try again. It actually comes from the mouth of United Kingdom Energy Minister Peter Hain, referring to his nation's flawed energy market setup and touting the benefits of the New Electricity Trading Arrangements (NETA), the United Kingdom's newly minted wholesale buying and selling system, which went live at the end of March. (Because both the Electricity Pool and NETA apply only to England and Wales, "United Kingdom," for purposes of this article, refers only to England and Wales.)
Or take this quotation: "... a review of