The EPA Speaks Out: The Clean Air Interstate Rule Explained
The Environmental Protection Agency reviews how the multi-pollutant control concept is to work.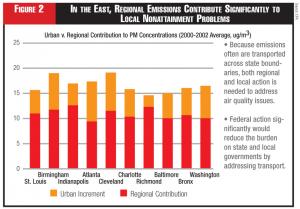 and EPA has already set stricter standards for other major sources of emissions such as cars, trucks, buses, and construction vehicles, EPA has determined that much more is needed to bring many areas into attainment with the NAAQS by CAA deadlines.
Market-Based Approach for CAIR
Since the advent of the acid rain SO 2 cap-and-trade program, the market-based regulatory approach for reducing air emissions has shown remarkable environmental results at costs far below original projections. The cap-and-trade approach establishes an emissions cap and then distributes "allowances" to emit equal to the cap, granting sources the opportunity to find the most efficient way to meet the environmental goal. Some sources over-comply and either bank allowances for future use or sell them to sources that do not find it cost-effective to make emission reductions. The ability to sell allowances creates financial incentives for electricity generators to look for new and low-cost ways to reduce emissions, to improve the effectiveness of pollution control equipment, and to find other low-cost compliance strategies such as fuel switching and dispatch changes.
In 2002, President Bush proposed the Clear Skies Initiative, a national cap-and-trade legislative proposal to reduce emissions of SO 2, NO X, and mercury by roughly 70 percent from the power sector. Unfortunately, the legislation has not moved beyond committee hearings. Legislation would be the most effective and efficient approach to meeting environmental goals, and the administration remains committed to working with Congress to pass such a bill. Absent legislation, EPA has finalized CAIR, lowering emissions of SO 2 and NO X in the East at levels similar to those envisioned with Clear Skies, using the authority granted under the Clean Air Act. EPA believes this is the best action it can take now to help bring states into attainment with the air quality standards.
CAIR Framework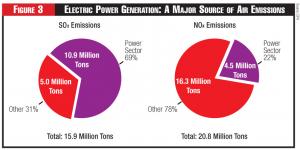 Air quality modeling completed by EPA has found that SO 2 and NO X emissions from 23 states and the District of Columbia contribute to the nonattainment of the fine particle (PM 2.5) standard in downwind states and that emissions of NO X in 25 Eastern states and the District of Columbia contribute to the nonattainment of the ozone standard in other downwind states ( see Figure 4 ). EPA also proposed on March 10 that Delaware and New Jersey be added to the list of states contributing to fine particle nonattainment.
Using the NO X Budget Trading Program as a model, CAIR grants states the option of participating in a market-based cap-and-trade program to reduce both SO 2 and NO X emissions. As part of the program, EPA set emission caps for SO 2 and NO X for the affected region based upon what can be achieved in a highly cost-effective manner. The emission allowances then were apportioned to the states. States must achieve their required emission reductions by either participating in the EPA-administered interstate cap-and-trade system for the power sector, or by choosing an alternate approach that is subject to EPA approval. Under the regional NO X Budget Trading Program, all states affected by the