Exelon's Epic End Game
Electric M&A: The merger with PSE&G may herald a new industry structure, squarely at odds with regional markets.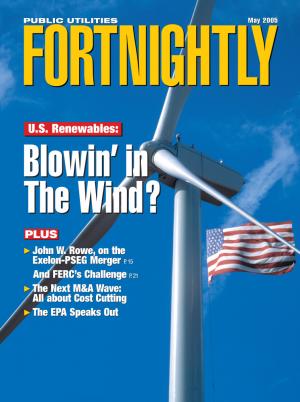 Call it the merger that broke the bank.
The marriage between Exelon and PSEG, owner of the utility Public Service Electric & Gas (PSE&G), formally proposed in February in papers filed at the Federal Energy Regulatory Commission (FERC), would create the largest electric utility in the United States.
The combined assets (prior to any divestitures to ease the shock) would total a quarter again larger than Duke Energy (number two), 60 percent larger than Dominion Resources, and nearly twice the size of American Electric Power. The new firm (Exelon Electric & Gas, or EEG) would claim roughly one-and-a-half times the annual revenues of Southern Co. (or Duke, or Dominion). Meanwhile, the two EEG partners promise great efficiencies from the deal, coming from huge economies of scale and the consolidation of nuclear resources under one roof, under the leadership of Exelon's claimed world-class nuclear expertise. ( See FERC Docket No. EC05-43, application filed Feb. 4, 2005, comments filed Apr. 11, 2005 .)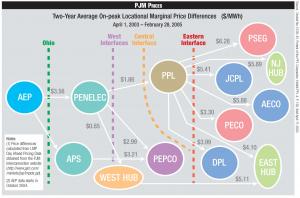 The policy implications could loom even larger, however.
A Real Conundrum
Standing at risk is nothing less than FERC's entire regulatory regime for approval of mergers and market-based rates. For, if the commission should
OK this deal, it could well foreclose any future merger between or among any other utilities operating within the ever-expanding footprint of the PJM regional grid—if FERC follows its current rules. That's because the EEG merger, as proposed, even with the parties' promises to divest fossil power plants and lease out rights to output of nuclear units to mitigate market power, would boost the level of concentration of ownership of generating capacity within PJM to an amazing extent.
Consider the effect on HHI. (Antitrust experts look to the Herfindahl-Hirshman Index—the sum of the squares of market shares—to measure market concentration.) Any way you cut it, the increases would run off the scale. That would just about guarantee that any future M&A deal between PJM players would violate FERC's "Appendix A" screen for measuring market power, as set out in its various merger policy statements. ( See FERC Order No. 592, 61 Fed.Reg. 68,595;
and Order No. 642, 65 Fed. Reg. 70,983. ) Ditto for its twin tests for approval of market-based rates that FERC announced last year in its AEP Power Marketing case, which measures both market share and "available economic capacity." ( See Docket No. ER96-2495-016, Apr. 14, 2004, 107 FERC ¶61,018. )
By some estimates, the post-merger EEG could own as much as 47 percent of all generation in a high-cost sector of PJM located to the east of a key transmission interface, and as much as 30 percent even after divestitures. But FERC's AEP rule says that any share greater than 20 percent puts market-based-rate authority in jeopardy. Such impacts could throw PJM into turmoil, leaving EEG secure in a commanding position, with competitors unable to bulk