Spot-Market Clearing
Solving the electricity credit malaise.
expected to ensure financial performance of all obligations of the defaulting party. In practice, however, the SMO does not have the balance sheet to carry this risk itself. As a result, most markets' rules call for any default amounts, in excess of the collateral being held, to be socialized to the remaining participants according to a pre-determined formula, often unique to that market. Because participants do not have insight into each other's spot-market exposures, these socialized amounts are both unpredictable and unhedgeable.
This would all be moot if the magnitude and probability of default were both sufficiently small that they could be ignored. The reality, however, is far from this. On a monthly billing cycle, credit exposures can be up to 60 days' settlement ( see Figure 1 ), and even under weekly billing can exceed 18-plus days. For many spot-market participants these exposures are secured by little or no collateral, with all unsecured amounts at risk.
Under the , the likelihood of participant default and the potential losses arising from such an event is significant. These events can occur regardless of whether the market is otherwise successful. For example, in 2001, PJM experienced payment defaults totalling $4.5 million4 related to the failure of Utility.com and Utilimax. 5 A number of other markets around the world have experienced similar defaults in the millions of dollars. If sufficiently severe, such events have the potential to affect the ongoing viability of the entire market, along with the market operator-as demonstrated by the California Power Exchange, which collapsed after its markets suffered payment defaults totaling $2.9 billion. 6
For participants, the potential to receive large socialized charges resulting from the default of someone else-charges that they cannot anticipate, hedge against, or in any other way manage independently-should be an issue of serious management concern. For spot-market operators, who are entrusted with managing this risk on behalf of participants, the challenge is to find a better solution.
A New Application for Proven Infrastructure
For an answer, we need look no further than futures markets, and the sophisticated clearinghouse infrastructure they have evolved over many years. The clearinghouse model is used by almost all of the world's futures markets, including major energy marketplaces such as the New York Mercantile Exchange (NYMEX). The disciplines inherent in this model have allowed these markets to maintain their integrity through both normal circumstances and extraordinary events, such as the collapse of Enron, the energy industry credit meltdown, and various natural disasters, wars, and other causes of price volatility.
Spot-market clearing is an innovation upon this proven solution-extending the clearinghouse concept to provide similar protections to spot markets in electricity. Under this model, the clearinghouse replaces the SMO as the counter-party to all trades. More importantly, it acts as guarantor, assuming the risk of counter-party default-thus removing this risk from the socialized pool of all participants.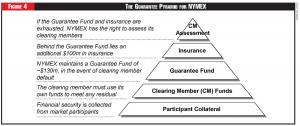 However, without the right credit risk-management processes and structures in place, a third-party guarantee is a hollow promise.
It is not enough for a central counter-party to pledge it will take on all default risk; a