Boardroom Focus: Bringing Insight to Oversight
How to use the board of directors to build a more resilient enterprise.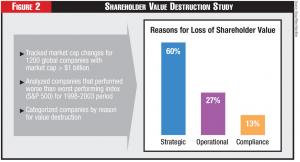 mutual disenchantment-a frustrated, under-informed board and a defensive management team-or through an erosion of useful boundaries-a micro-managing board and an order-taking management.
One approach for avoiding these pitfalls has been to reform mechanisms of "governance," adding board committees, requiring outside director dominance in certain decisions, scheduling discussions with only outside directors present, . But once these structural reforms have been implemented, the substantive question remains: How can the board best use its limited time to provide effective corporate oversight that meets legal standards of caution and prudence while also helping management marshal the resources and drive to create shareholder value?
Faced with the expectation that they will know everything important about the company they direct-and with the reality that no matter how conscientious individual directors may be, the time and attention they can give to the task are necessarily limited-the key challenge comes down to choosing and condensing information. In our observation of constructive interactions between boards and management, this process of information distillation, when successful, is supported by three qualities in the board-management relationship: strategic clarity, risk appreciation, and structured dialogue.
Strategic Clarity
While much attention lately has focused on the board's important role in ensuring integrity and compliance, the effective board sees its role more broadly. In a study of companies with market capitalization exceeding $1 billion, Booz Allen found that over a recent four-year period only 13 percent of the total loss in market value suffered by the bottom quartile of those companies was attributable to compliance failures. Eighty-seven percent of the loss was attributable to operational and strategic failures. Since compliance failures are frequently an attempt to obscure strategic failures, the imbalance is likely even greater than these numbers suggest.
Strategic failure comes in two forms: One is the spectacular kind that arrives suddenly amid tumbling share prices, the other the quiet kind that creeps in unobserved until the enterprise is chronically lagging most of its peers. The former is the failure of wrong decision, the latter of indecision. Because it's easier to spot the signs of recklessness than the signs of stagnation, boards tend to focus on the things management shouldn't do. But it's the things management should do to fortify the resilience and value of the enterprise that have the larger impact, and that deserve at least an equal share of board attention.
This is where strategic clarity helps. By "strategic clarity" we mean:
Explicit definition of the objectives of the enterprise;
Logical linkage between these objectives and the strategies selected for achieving them;
Shared understanding of what resources, capabilities, and environmental realities are needed to make these strategies successful; and
Candid acknowledgment of the risks and uncertainties that might render the strategies ineffective.
No one expects the board to develop a strategy. That is management's responsibility. But one should expect the board to help actively in defining the objectives of the enterprise and then to press for clear answers on these issues of linkage, capability, and risk. In the course of asking these questions, and discussing and challenging management's answers, the board helps management refine