CEO Pay Reflects Strong Stock Performance
The CEO Power Forum: TXU's Wilder nets $55 million package.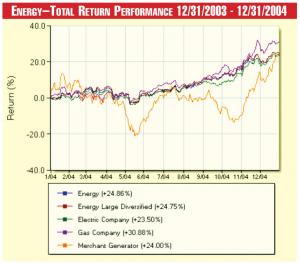 cost ( see Table 2, p. 60 ). Southwestern Energy's stock was the second highest performer in the SNL Energy universe last year, but CEO Harold Korell netted "only"a package of $2.5 million.
Despite the largesse to the top-paid executives, investors typically do not pay much attention to pay packages as long as the stock is performing. However, when performance lags for too long, the natives get restless. Perhaps at the top of a possible worst-bang-for-your-buck ( see Table 3, p. 60 ) list is Calpine's Peter Cartright. Calpine's stock languished in 2004, down 18.1 percent for the year and down another 44.1 percent though May of 2005. Lately, the company has had to fight off rumors of impending bankruptcy. That is not the type of distraction a struggling merchant generator needs. Yet despite all of this, Mr. Cartwright pulled in $10.8 million in 2004. To be fair, most of that compensation came through previously announced exercise of stock options that were set to expire at the end of the year. However, Cartwright's large payday in '04, coupled with financial struggles and terrible stock performance, is certainly ironic.
Recent word from TXU is that they have reached the cost-savings targets set out in the outsourcing ventures, with many back-office jobs moved overseas to India and Poland. Look for more executives to take a page from Wilder's textbook and possibly try dramatic outsourcing to match his company's performance and maybe his pay. It certainly will be interesting to see if operators in more regulated states can turn away from building up the rate base or if regulators can stomach the jobs possibly sent overseas.

It is unlikely that any CEO will pull Wilder-like pay for 2005. In fact, Wilder already has lost some of his newly acquired fortune as the credit-rating agencies start to push back. Both Fitch and Standard & Poor's put TXU on a negative outlook, citing concern over management initiatives aimed at improving shareholder returns. The credit rating agencies had hoped for continued balance-sheet improvement, and as a result TXU's ratings have tumbled. The sector continues  to outperform the broader market; through May, 2005, the SNL Energy Index is up almost 6 percent, while the S&P 500 actually has declined more than 4 percent.
Each member of the top 10 will measure his income in eight figures, but the only likely change in the list will be the appearance of Duke's name, rather than Cinergy's, next to Jim Rogers. n
Edward Metz is director of SNL Energy, an information media firm that provides energy industry news and data through a variety of newsletters and electronic products. SNL is headquartered in Charlottesville, Va., with offices in Washington, New York, London, and Boulder, Colo. Contact Metz at emetz@snl.com.
Endnotes:
1. Total Annual Compensation: Cash-equivalent compensation paid to the executive, comprising base salary, buns, and other annual compensation. The base salary is annualized if the data is provided for less than one year's work.
2. Long-Term Compensation: Annual cash, stock, or performance-unit awards paid or credited during the fiscal year in accordance