EPA's Big Bet on Green Trading
Environmental Emissions: The cost to power markets of the Clean Air Interstate Rule depends on the ability to trade mercury.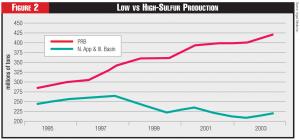 1.3 million tons in 2015.
Key Differences
The creation of year-round  limits is one of the key differences between CAIR and existing cap-and-trade programs for the pollutant, which is a precursor to ground-level ozone and a greenhouse gas. Reducing NOx 12 months a year will change how coal-fired generators operate their selective catalytic reduction systems, how they manage regular maintenance outages, and how they should reduce the cost of  allowances as the marginal cost for those controls falls.
Prior to the run-up in prices for SO 2 allowances that began in early 2004, NOx was more volatile, and was the greater variable for generators and the power market overall. NOx prices, which just prior to the ozone season were trading around $3,475/ton, have ranged from below $1,000 up to $8,000 in the first six years of activity. NOx is currently limited in the 20 states under the State Implementation Plan (SIP Call) that began in 2003, a program that followed the establishment of the Ozone Trading Commission market in the mid-Atlantic and New England states in 1999.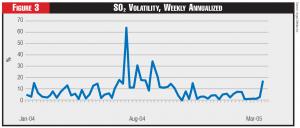 Including state programs in California, market prices have gone even higher than the $8,000 seen in April 2003.  Allowances under the regional air quality management districts in California became in incredibly short supply during the 2000-2001 energy crisis, when even the dirtiest or least economic generators were needed to address electricity shortfalls.
The most recent spike in SIP Call prices came in early 2003, as states were trying to determine if they would have sufficient allowances to cover the program's first ozone season. That concern became more acute as natural gas prices surged, thereby ensuring coal generation was well in the money during the summer and that the need for allowances would grow.
The 2004 summer was atypical in that it began with sufficient tons of NOx, to cover any bump in demand, leaving prices hovering above $2,000/ton. In the 2005 season, the first full summer for several key coal-fired generating states, the potential for a more intense cooling season, and with 7 GW of capacity running SCRs for the first time, prices are starting higher than the previous summer. An overhang of allowances from the prior summer remains, though those cannot be converted at full value in 2005.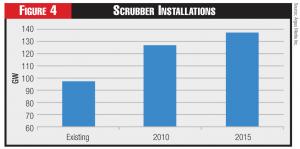 American Electric Power Co. (AEP) estimates that an uncontrolled coal plant in the summer of 2004 faced a cost of $2.70/MWh for NOx and $4/MWh for SO 2. This July, those costs are estimated at $4.20 and $6.20, respectively, according to an April 14 presentation. While SO 2 costs have risen each year since 2003, the  expectations for NOx actually are below those seen two summers ago.
Restrictions on how many unused tons of NOx can be used in future years is another key difference between that market and the one for SO 2. Flow control—the process that limits carrying banked tons from one year to the next to prevent too large a short-term increase in pollution—will not be used when CAIR begins in 2009. Utilities and other participants in the  market are struggling