The Ultimate CEOs: C. John Wilder, TXU Corp.
The CEO Power Forum: Not all utility CEOs are created equal...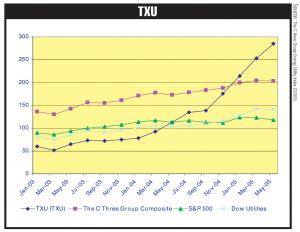 (NERC) regions … the ERCOT market in which we compete has the highest growth rate of any NERC region in the country. We can grow our business like Florida can grow their business, which has slightly higher growth rates, just by virtue of new customer growth. This year alone we'll probably hook up 50,000 new houses. These are different kind of homes that have been built in the past. They're not all mansions. Home sizes are getting larger. Home cooling needs are getting larger. And electrical needs are getting larger because of swimming pools and various amenities people are building in. We can grow our business organically by virtue of the market that we can compete.
We also believe we grow our business around some of these core businesses that we have. We are a top quartile operator from an operating performance and cost performance in coal-plant operations. We have plants in place to drive that operation to a top operator. We believe we can grow our business nationally around coal plant operations, and maybe even gas plant operations. We have made a very small entry step outside our core territory or market [into the Southern Texas or Houston-Corpus Christi area]. We stumbled a bit when we entered into that realm. The year before last we lost about $100 million dollars in those markets. Last year we lost $50 [million] and this year we think we'll make about $20 million or so. We believe we can grow that business over the next three to five years in to a $100 million business.
Fortnightly Is the growth rate in Texas higher than the average growth rate in other states?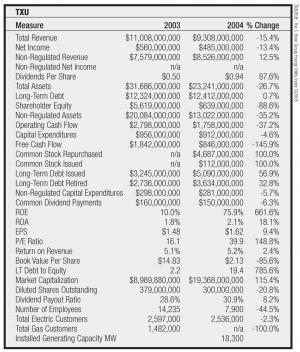 Wilder If you look at the average growth rate … [most] companies have from a half-percent to one percent growth rate per year. We have this really great incumbent position in a high-growth market, which is very valuable. The growth rate in Texas is about two-and-one-half to three-and-one-half percent.
Fortnightly Will TXU ever compete in other competitive markets?
Wilder We hope to. None of the markets today are constructed in a way that make them competitive. That's why there has been no switching. Most of these markets you look across there have been no more than a 1 to 2 percent switch rate. In Texas there has been a 75 percent switch rate for industrial customers, 50 percent switch rate for commercial customers, and about a 20 percent switch rate for residential customers. So, there is just no market that compares in terms of the real competitiveness of the market. So, if you look out near the end of the decade and you get some of these big markets like Pennsylvania, New York, Illinois, Ohio, they might unfold in a way that would enable a strong retailer of the consumer electricity product, and that's what we believe we are today. … It might enable a market opportunity in those markets. But right now we don't have any plans because the economic incentives just aren't attractive. The contribution margin that you can earn in