LDCs: That Giant Sucking Sound
The consequences
of short-sighted
rate making.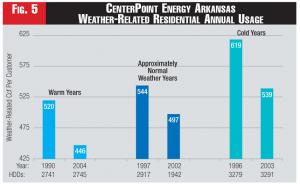 and small commercial per customer usage over time. These patterns have important earnings consequences with traditional rate structures in effect today. Just as many LDCs and their state commissions effectively addressed weather-induced impacts on earnings through new regulatory mechanisms in the past, it is time for LDCs and their commissions to examine alternative mechanisms to address earnings impacts associated with these declining usage patterns.
Unless there are changes in the traditional rate-setting process, the only option for LDCs will be to continue to play catch-up through frequent general rate-case filings. While it is not my purpose to present and evaluate various regulatory tools to address the impact of these trends, I offer some observations that LDCs and state commissions should consider during the process to implement regulatory changes.
The fundamental issue relates to the reasonableness of volume-dependent base-rate structures. There are a number of sound regulatory policy reasons to move away from these structures. First, a base-rate structure containing significant usage-based charges is not supported by cost considerations. An LDC's cost of delivery service as reflected in its base-rate revenue requirement is driven almost exclusively by the number of customers served and the demands those customers place on the delivery system at peak times, not by the gas volumes that the LDC delivers to customers. 12 Volumes that customers consume do affect gas-supply costs, but virtually all gas-supply costs typically are excluded from the determination of the delivery service revenue requirement and resulting base rates. Rather, gas-supply costs are recovered through separate cost-of-gas clauses. Accounting structures may result in some gas supply-related expenses being recorded as operating expenses includable in the delivery service revenue requirement, but these expenses are not a significant portion of LDC operating expenses. For example, load-dispatching expenses, which some analysts argue are volume driven, may be recorded as operating expenses. 13 The fact remains that an LDC's delivery service revenue requirement is not significantly volume-driven, and cost considerations suggest application of a base rate structure that concentrates revenue recovery on non-volume-related rate elements.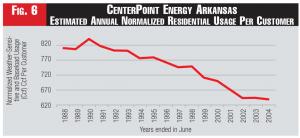 Second, by breaking the link between an LDC's profitability and the volume of gas it delivers, an LDC will have a greater incentive to encourage its customers to use less gas. In advocating the need for regulatory authorities to consider proposals to decouple utility profitability from gas delivery levels, the AGA and Natural Resources Defense Council recently recognized the limitations inherent in volumetric-dependent rate designs:
When customers use less natural gas, utility profitability almost always suffers, because recovery of fixed costs is reduced in proportion to the reduction in sales. Thus, conservation may prevent the utility from recovering its authorized fixed costs and earning its state-allowed rate of return. In this important respect, traditional utility rate practices fail to align the interests of utility shareholders with those of utility customers and society as a whole. 14
At times of high gas costs, well-designed conservation initiatives are particularly valuable to customers. By refocusing the manner in which delivery revenues are recovered, LDCs will have stronger incentives to propose these initiatives because their earnings would not be