RTOs: Facts, Not Fiction
The benefits and future challenges of regional transmission organizations.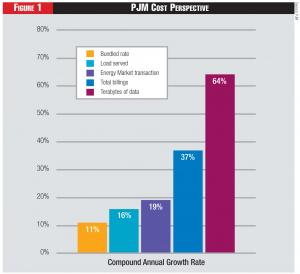 for all customer classes, while prices rose in the same time period in non-RTO areas.
Regional Planning : RTOs provide a platform on which transmission needs can be addressed on a regional basis and, if properly structured, provide the cost-allocation structure to allow for transmission expansion. The PJM Regional Transmission Expansion Planning process provides for PJM to determine transmission upgrades necessary to meet reliability needs and to "order" them to be built (subject to state siting authority). This approach has resulted in the authorization of more than $1 billion of transmission upgrades since 1997. PJM also has developed a process for making "economic" upgrades to the grid that opens participation in solutions to the grid to any participant, not just incumbent utilities. At PJM we recognize we must do more to provide for transmission expansion and economically driven upgrades to the grid, but does anyone believe that the old, single utility approach to transmission planning has a better chance of achieving regional results?
When discussing transmission expansion, congestion levels often come into the conversation. Some have alleged that congestion levels are increasing in RTOs. In fact, congestion in PJM steadily has averaged between 7 and 9 percent of total PJM market value since 2002.
Even this number does not tell the true story of congestion on our system. PJM provides instruments to hedge or protect against congestion costs in the form of financial transmission rights (FTRs). These hedges act as a revenue stream based on congestion to offset congestion expenses. The amount of congestion charges actually paid by load that is not offset by the FTRs is really only a bit above 1 percent of the total PJM market value. So, if this is the case, what is the "correct" level of congestion? Should we spend large amounts of money to eliminate all congestion or is it more economically efficient to manage to a level so that congestion does not grow beyond a certain threshold? Whatever the answer, being able to plan over a broad region certainly affords better tools to implement a solution once the threshold question is answered.
Independence of Market Administration : It is often claimed by those in areas without organized markets that they too have markets. So they do. However, while transactions between utilities or other buyers and suppliers exist in all parts of the United States, without an independently organized market the transactions are limited, as many possible suppliers or buyers will not transact in that space given the inability to know if they will be dealt with fairly. The existence of a market that is independently administered leads to greater liquidity, which in turn leads to a better price.
EBay, a market with many buyers and sellers, illustrates the concept. Anyone wishing to contract in the eBay space has confidence that they are getting a fair price. But wait, this independent market helps even those who only use eBay as a reference price to know what the competitive price is—which is then used to transact elsewhere. So it is with organized markets: The independence leads to