Guessing Mother Nature's Next Move
What can be done to improve weather prediction and load forecasts?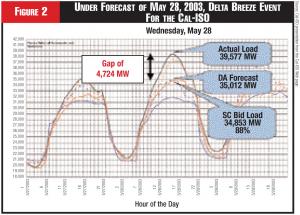 model of the delta breeze. Statistical analysis of observed weather data from more than100 weather stations in California during the latest 10 years showed that the breeze indicates large-scale winds that affect both Northern and Southern California. Furthermore, the analysis showed that accurate forecasts of the delta breeze required a large-scale weather condition: the North Pacific High.
The statistical forecast model developed by Scripps for delta breeze uses three variables: latest-hour wind speed/direction at Fairfield, previous hour's wind speed/direction at Fairfield, and latest pressure gradient between Merced, Calif., and Portland, Ore. (measuring the strength of North Pacific High). The accuracy of the statistical model was compared with the accuracy of the National Weather Service (NWS) GFS MOS model for Fairfield. The resulting forecast accuracies are shown in Table 1.
The statistical model is much more accurate for today's forecast (made at 7 a.m.). However, for tomorrow's forecast (made at 11 a.m.), the statistical and NWS models are virtually the same. Therefore, a combination of statistical model and NWS model can be used for optimum accuracy.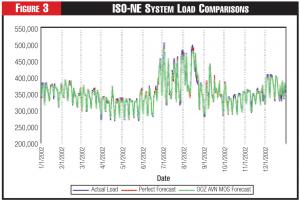 As shown in Figure 2, the peak load was underforecast by Cal-ISO by 4,724 MW. In addition, the load-serving entities had a similar total underforecast, which resulted in their underscheduling of load by an even greater amount. The underlying cause of the underforecast was the failure to forecast the cessation of the delta breeze. This resulted in a major increase in prices from a typical average of $45/MWh to $110/MWh during the peak 12 hours.
Additional costs were a minimum of $1 million.
New England ISO: Relying on Biased Weather Stations?
NOAA also investigated a weather-load forecast improvement opportunity with ISO New England (ISO-NE). The NOAA Northeast Energy Project aimed to:
Explore improvements in the ISO-NE weather station selection and weather station weighting in the ISO-NE ANNSTLF model calibration;
Recommend ways to improve the accuracy of weather forecasts during extreme peak-load weather periods when the value to ISO-NE is the highest;
Recommend ways to improve the forecast in time and periods ranging from the day-ahead gas market to periods of four days.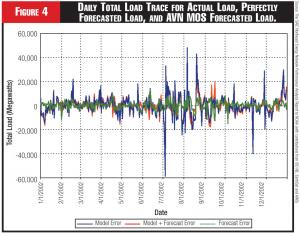 ISO-NE provided a list of parameters (temperature, relative humidity, and wind speed) used in the load model and the formula for combining the parameters into indexes for load model input.
The methodology included using three data sets for:
Identifying the actual system load.
Estimating the perfect load forecast. The actual pseudo-temperatures were calculated for the system to simulate the perfect forecast (actual = forecast). The actual system pseudo-temperatures used as input for the perfect forecast load were calculated by ISO-NE.
Estimating the day-ahead hourly forecast.
AVN MOS (00Z) hourly forecasts of temperature, relative humidity, and wind speed were combined for eight New England weather stations (BDL, BDR, BOS, BTV, CON, ORH, PVD, PWM) using the ISO-provided formulas to create a systemwide pseudo-temperature forecast. EarthSat prepared the system hourly forecast, and ISO-NE ran it through the ANNSTLF load model. Load data for all three data sets were calculated/observed on an hourly basis for the year 2002. Data was then aggregated by day to simplify the comparison