Guessing Mother Nature's Next Move
What can be done to improve weather prediction and load forecasts?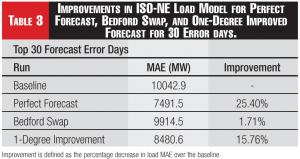 high energy usage days because the perfect forecast improvement and the 0.7 incremental index forecast improvement more than doubled in the top 30 error day analysis compared to the error for all cases.
California ISO: A Western View Of WeatherStations
Cal-ISO took a similar approach to the selection of improved weather stations. For the Los Angeles area, the existing model used Los Angeles airport, Orange County airport, L.A. Civic Center, Ontario, and Riverside. The regression of weighted average temperature from these stations vs. load had an R-squared of 0.75 (1.0 is perfect correlation).
Analysis of individual stations showed that the two coastal stations (L.A. airport and Orange County airport) strongly were influenced by local sea breezes. However, these local sea breezes generally did not penetrate far enough inland to affect load significantly. This led to development of a new model using L.A. Civic Center, Fullerton airport (8 miles inland), Ontario, Lancaster, and Palms Springs. These latter two stations are far inland and represent high area air-conditioning loads. Riverside was eliminated because its temperatures were very highly correlated with Ontario and thus did not add any new information. The weighted average temperature from these stations had an R-squared of 0.90 vs. load. This approach, applied to all weather stations in Cal-ISO load areas, resulted in a 16 percent drop in large (>5 percent of load) hourly load forecast errors from 2002 to 2003. This result shows the extreme importance of proper weather station selection and weather station weighting.
Weather Event Analysis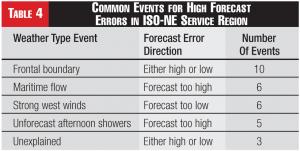 A case-by-case analysis on the synoptic weather events in the ISO-NE region was completed to identify the standard synoptic situations causing the high weather error cases. As would be expected, the high error cases occurred when there were active weather events in the area. In three of the cases, the load-model errors could not be readily explained. In the remaining 27 cases, the load-model errors could be explained by weather data forecast errors associated with reoccurring weather situations. The key synoptic weather features that were noted included:
A frontal boundary in the area that was moving slower or faster than expected;
Easterly or Northeasterly maritime wind influences resulting in temperatures below those that were forecast;
Strong westerly winds flowing downhill from the mountains to the coastal plain in the high-weighted population areas around Boston, Mass., and Providence, R.I. The westerly flow resulted in compression and provided higher surface temperatures than forecast; and
Unexpected afternoon thundershowers resulting in temperatures lower than forecast (see summary in Table 4).
A review of the forecast errors that were identified in the summer of 2002 and the associated market prices at the time of the error show significant forecast errors during periods of high market prices. This information shows an opportunity for marketers to pinpoint key load and temperature events along with the need for ISO-NE to work to reduce load forecast error during critical weather synoptic events. A comparison of the baseline forecast with the perfect forecast indicated that the weather forecast component in the model was responsible only for approximately 40 percent of the overall