Beyond Sarbanes-Oxley
Energy Trading & Risk Management: How to evaluate risk and improve decision-making capabilities.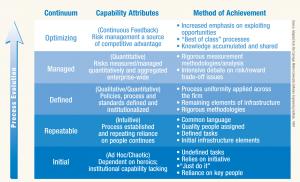 strategies, distinctive products and brands, and innovative processes and systems. This expanded focus is important in our era of market capitalizations significantly exceeding balance-sheet values and the desire of many companies to focus on protecting their reputation from unacceptable risks relating to potential future events.
An ERM framework does not replace the "internal control" framework. Instead, it incorporates it. As a result, businesses may decide to implement ERM to address their internal control needs and to move toward a more robust risk management process.
Why Implement ERM?
ERM provides a company with the process it needs to become more anticipatory and effective at evaluating, embracing, and managing the uncertainties it faces as it creates sustainable value for stakeholders. It helps an organization manage its risks to protect and enhance enterprise value in three ways. First, it helps to establish sustainable competitive advantage. Second, it optimizes the cost of managing risk. Third, it helps management improve business performance.
These contributions redefine the value proposition of risk management to a business. One way to think about the contribution of ERM to the success of a business is to take a value-dynamics approach. Just as potential future events can affect the value of tangible physical and financial assets, so also can they affect the value of key intangible assets. This is the essence of what ERM contributes to the organization: the elevation of risk management to a strategic level by broadening the application and focus of the risk-management process to all sources of value, not just physical and financial ones.
ERM transitions risk management from "avoiding and hedging bets" to a differentiating skill for protecting and enhancing enterprise value as management seeks to make the best bets in the pursuit of new opportunities for growth and returns. ERM invigorates opportunity-seeking behavior by helping managers develop a true understanding of the risks and capabilities to manage those risks within an organization.
Five Steps to Implementation
Organizations broadening their focus to ERM should follow five practical steps:
1. Conduct an enterprise risk assessment (ERA) to assess and prioritize the critical risks.
An enterprise risk assessment identifies and prioritizes the organization's risks and provides quality inputs for purposes of formulating effective risk responses, including information about the current state of capabilities around managing the priority risks. If an organization has not identified and prioritized its risks, ERM becomes a tough sell because the value proposition only can be generic. Using the entity's priority risks to identify gaps provides the basis for improving the specificity of the ERM value proposition. The message: Avoid endless dialogues about ERM. Get started by conducting an enterprise risk assessment to understand your risks.
2. Articulate the risk-management vision and support it with a compelling value proposition.
This step provides the economic justification for going forward. The "risk-management vision" is a shared view of the role of risk management in the organization and the capabilities desired to manage its key risks. To be useful, this vision must be grounded in specific capabilities developed to improve risk-management performance and achieve management's selected goals and objectives.