Battle Royal: Pulverized - Coal vs IGCC
The battle for the future of coal-fired power is heating up. Recent developments give IGCC a fighting chance.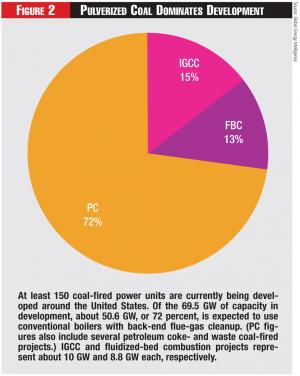 interests of ratepayers and shareholders. One path leads to potentially crippling future stranded-asset liabilities, if CO 2 constraints render pulverized-coal plants uneconomic; another leads to sobering cost penalties from short-term supply constraints, as generators burn more natural gas to meet base-load demands.
"With high prices for gas and oil, we need to use the plentiful coal we have," says Caren Byrd, an executive director with Morgan Stanley in New York. "But at the same time, the environment is important. IGCC seems to be more environmentally friendly, but the key to financing it will be a clear path to cost recovery."
Supercritical Decisions
Selecting technology for burning coal is a more complicated affair than it was in the past, even though the rules for new power plants haven't changed much since the Clean Air Act was amended in 1990. Companies still must apply the best-available control technology (BACT) to minimize air emissions. But what has changed is the technology itself, and the broader context of environmental sensitivity.
The design that dominates current proposals is a pulverized-coal boiler with low-NOx combustors, flue-gas desulfurization (FGD) equipment, selective catalytic reduction (SCR) systems for absorbing more NOx, and particulate-capture systems for reducing the emission of fine particles.
"Advanced combustion with the latest technology for emissions reduction is vital to the energy security of America moving forward," says Vic Svek, a vice president with St. Louis-based Peabody Energy, the world's largest privately owned coal producer. "The vast majority of the 120-plus plants being developed today use advanced combustion."
Peabody is developing two such plants—1,500 MW each—adjacent to coal mines the company operates in Illinois and Kentucky. Peabody chose conventional pulverized-coal boiler technology because it delivers the greatest bang for the buck, in terms of low capital costs, high output and high reliability. With BACT systems in place, Peabody's facilities will meet today's emissions standards.
However, Peabody's projects will use conventional sub-critical boiler technology, because they will achieve economic efficiency by virtue of being located adjacent to two mines Peabody owns and operates. With the exception of uranium, solid fuels don't get much cheaper than coal at the mine mouth, so the extra cost of supercritical or more advanced technologies generally isn't justified for mine-mouth projects.
In other situations, however, fuel efficiency carries a higher premium, leading companies toward supercritical boilers—high-temperature, high-pressure combustion systems that can produce efficiencies about 5 percent higher than conventional sub-critical boilers. This added efficiency makes a big difference over the operating life of a baseload plant, and in recent years supercritical boilers have become mainstream technology.
More advanced technology options are beginning to make inroads as well, especially as companies and policymakers attempt to address their exposure to the risk of changing environmental regulations, most notably carbon constraints.
"Traditional pulverized-coal plants are the overwhelming first choice, because that's what the industry is used to," says Neville Holt, technical fellow with the advanced coal generation technology program at the Electric Power Research Institute (EPRI). "However, the Energy Policy Act of 2005 has provided incentives for adopting other coal technologies, including IGCC and also perhaps ultra-supercritical