Preparing for the Next Nuke
Using scenario analysis to help utilities map out their strategies.
Green World: Broader application of environmental controls, including CO 2 taxes;
• Return to Reliability: Reliability standards adopted; and
• Nuclear Resurgence: Less dependence on fossil fuel generation.
These themes became the foundation for four alternative scenarios of the energy future, with main elements specified in outline and matrix form (see Table 1). The interplay among these elements and forces, and how they play out over time, is provided in the scenario storylines, which also include timelines. Each of the scenarios passed the three essential tests for robust and insightful scenarios, by:
• Capturing the critical uncer- tainties;
• Telling a credible, internally consistent, and complete story; and
• Provoking and stretching personal perspectives on the future marketplace.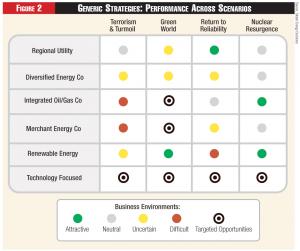 Table 1 provides a high-level overview of the key themes in all four scenarios. The themes—fuels, energy pricing, economy/energy demand, market structure, and environment—represent the key drivers, which define and differentiate each scenario.
Winners and Losers: Assessing Strategy Options for the Future Across Scenarios
The four Electric Power Horizons scenarios provide a robust format for evaluating alternative corporate strategies given different business landscapes. Figure 2 is Global Energy's high-level overview of how six generic business strategies are likely to perform across the scenarios.
Wholesale power prices are lowest in the Return to Reliability scenario due to higher reserve margins (less volatility), lower gas prices, and greater reliance on low-cost coal. In the Green World scenario, wholesale prices soar as CO 2 taxes are introduced and the North American coal fleet is fully retired by 2026. In contrast, power prices in the Terrorism & Turmoil and Nuclear Resurgence scenarios fall somewhere between Return to Reliability and Green World.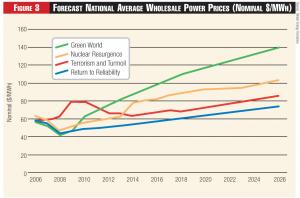 In all the scenarios, natural-gas prices play a critical role in price formation and fall from their early period highs. Despite the record gas demand in the Nuclear Resurgence scenario, new sources of LNG play a critical role in keeping gas and power prices manageable. In Terrorism & Turmoil, global and domestic terrorist attacks on petroleum and gas facilities cause near-term commodity scarcity and price volatility. Prices also are relatively high in the Nuclear Resurgence scenario initially and provide the catalyst needed by LNG project developers (and regulators) to begin building more gasification capacity. Green World experiences the highest prices driven by strong natural-gas demand coupled with few new sources of LNG due to inadequate gasification facilities.
Strategy Performance Across Scenarios
• Regional Utility. Regional utilities are likely to weather all four scenarios given their regulated earnings profiles. A possible upside in Terrorism & Turmoil is that the focus of the business moves to security and reliability regionally and away from broad national restructuring. The significant fuel switching and energy savings challenges presented in Green World suggests this business environment may prove the most difficult for regional utilities and marketers.
• Diversified Energy Co. This business strategy is likely to see the greatest upside in Green World given that growth opportunities more likely will present themselves in this renewable market-expanding environment with lower regulatory risks. As the economy contracts and slows, and restructuring comes to a halt