Power Plant Sales: Valuing Optionality
Market risks and volatilities are driving asset values higher.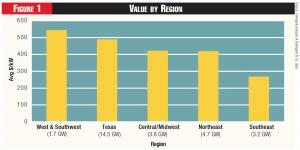 coming to auction all the time, and competition for those assets remains high.
"A huge amount of equity has been raised that seems to be targeting energy and power opportunities," Silverman says. "We likely will see more assets changing hands because of this new liquidity in the sector."
Prices for power plants might be reflecting this trend as well. In 2005 the average price paid per kilowatt increased significantly from 2004 (see Figure 5, "Prices Rebounding") . This increase is attributable to several factors, not the least of which is the large number of buyers in the market.
For example, Goldman Sachs recently auctioned an equity stake in the East Coast Power facility adjacent to Newark airport in New Jersey, netting a price that valued the facility at $1.3 billion—nearly twice the price tag the investment bank had put on the plant less than 18 months earlier.
"There is a lot of money in the marketplace, and it is chasing too few assets," Valocchi says.
Physical Hedge
In addition to buyer interest, factors putting upward pressure on prices include narrowing supply margins in some regions, as well as fuel and environmental considerations.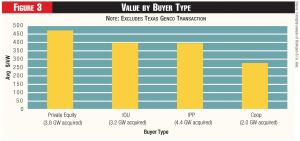 "Every time you turn around, there is something changing in the utility market," Valocchi says. "We've had the highest amount of volatility in the fuel market that we've seen in decades. The generating fleet is aging, and demand trends are not well understood. And we don't have a good handle on demand trends at the granularity we need to plan for the next 5 or 10 years."
These and other factors add up to an increasingly uncertain environment for power generators and load-serving companies, and make certain assets more strategically valuable—because of geographic, fuel or environmental characteristics (see Figures 1 and 2, "Value by Region," and "Value by Fuel").
"People are looking very carefully at fuel-cost management and volatility-related issues," Bodington says. "It is devaluing gas plants and adding value to alternatives."
This effect might not persist indefinitely, however. The current emphasis on fuel diversity has tipped the scales away from natural-gas fired assets, but over time their value may be buoyed by operating flexibility, environmental performance and efficiency potential.
"If you talk to people who are planning new generation, the only thing they want to talk about is coal," Silverman says. "People are still reeling from the run-up in gas prices after last year's hurricanes. But many analysts believe gas prices will fall, and asset buyers need to look critically at the implications of that, as well as ... everything else."
Current trends in U.S. power markets suggest supply margins will continue shrinking as power demands increase, and facility assets generally will maintain strong valuations. But how these market conditions will affect financial performance varies among individual assets. What role a given facility plays in its regional market—including its ability to dispatch as expected—will depend on a host of variables.
"Most of these combined-cycle plants were built for baseload operation," Silverman says. "A key question is whether they are likely ever to operate that way. Most have been at