The CEO Forum: The Ultimate CEOs: J. Wayne Leonard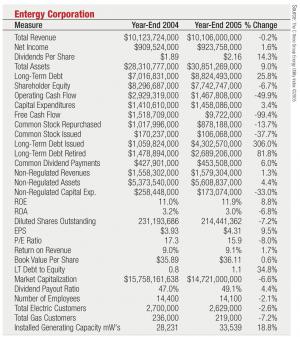 ERCOT RTO and CenterPoint. We have a piece of Texas ourselves that is not in ERCOT, and we are studying connecting that into ERCOT. We are in the process of developing a business separation plan where Entergy Gulf States Texas would be separated into two companies, one in Louisiana and one in Texas. And then we are trying to come to agreement of what the benefits would be of moving our Texas property into ERCOT and creating those ties.
Preliminarily, it looks like it would take a couple of 40-mile AC ties and 90-mile AC lines and a couple of DC lines. The DC lines are important because you have some co-ops that bought generation on the Louisiana side. Once you open up those ties around Texas, the power would flow in ERCOT, and you would be cutting [those co-ops] off. We wouldn't want to do that, obviously.
It is probably in the $300 [million] to $400 million range to move our Texas customers into ERCOT. That would then allow power from the Southwest Power Pool to flow into ERCOT also. That would alleviate a lot of congestion problems they have around Houston. It would bring more solid fuels in. It would help them with their capacity situation. Inevitably, it would lead to a stronger, more reliable system.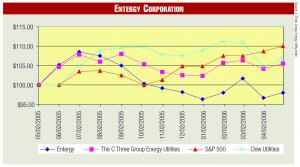 For Texas, they would probably want some assurance that it wouldn't put them under FERC jurisdiction. But that may come some day or it may not. That really doesn't matter so much as making sure the system is as reliable as possible.
Fortnightly: What percentage of pre-Katrina load are you serving now?
Leonard: It is a very high level across the system because New Orleans was such a small piece of our overall business. We lost 30,000 customers in Entergy Louisiana because St. Bernard was just outside of New Orleans, and was the most heavily damaged community maybe in the world. In the United States, it was the first time a natural catastrophe damaged every single structure above ground. St. Bernard's was where there were a number of refineries and a lot of people live. They had 10 feet of water.
We lost all of those customers. They are still out in Louisiana. Then in New Orleans, which is a separate jurisdiction, we were at about 190,000 before the storm and we are at about 40 percent of that now. But the load is about 60 percent because some of the bigger customers and businesses have come back. We have lost some 100,000 customers out of 2 million plus.
Fortnightly: Do you think you will get those customers back?
Leonard: Well, there will be a sizeable piece that won't come back. New Orleans itself, you have to remember, with a city with a population of 600,000 or so in the 1960s, dropped to 400,000 prior to Katrina in terms of population. It had been a long, slow decline. A lot of those people had moved to the North Shore, which is served by CLECO, putting them in to a different territory.
In this particular