Fortnightly 40 Best Energy Companies
Superior asset management, exceptional cost discipline, and magnificent growth opportunities define the winners of our second annual financial ranking.
good way to think about performance," he says of the F40's time frame. "We tend to look at three-, five- and 10-year periods. Ours is a capital-intensive business where there will be times when commodity values are up and commodity values are down. Since we have to operate a company and we have to make long-term capital investments and with long-term returns, we like those kind of time horizons."
Taking a long-term view hasn't hurt Edison International's shareholders. "Edison International returned to shareholders over 300 percent over the three years covered by the F40," he explains. In the aggregate over five years through the power crises, Edison International returned 200 percent.
Finally, Mike Childers, CEO of generation development, TXU, tells how the management of his company's generation fleet has changed over the last three years and contributed to the company success and placement on the F40.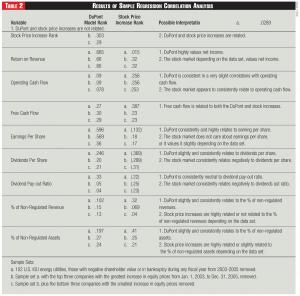 "We really embarked on being a top-tier industrial company operating generation assets as opposed to a utility operating generation assets. I draw the differentiation there in that, historically, our coal-fired assets operated in the low 80 percent availability capacity factor range. Today, they are operating at 92, 93, and 95 [percent]. Our nuclear plant operated down at the same range; year-to-date in 2006, it is operating at 99 percent. We have done that through a couple of operational changes in a new system that we dubbed the TXU operating system," he says.
Childers attributes the improvement in the company's assets management to a series of lean manufacturing approaches that TXU learned from other industries and imported. "We spent a lot of time with Toyota, with Georgia Pacific, with Boeing, with a lot of major manufacturers who work in commodity-type businesses. We learned and studied from them the lean operating practices of best-of-class and world-class manufacturing capability, and we brought that to our operating system. And our operating statistics have moved from middle of the pack to top tier."
Debating the Dividend
There is one measure on the F40 that energy industry executives still agree to disagree on: payment of the dividend. Many executives believe that payment of dividends reflects a strong balance sheet and optimism about a company's financial performance and its future growth prospects. For some regulated and diversified utilities, it is a source of pride to pay a dividend. But as some companies increasingly earn higher and higher unregulated earnings through high-growth investments, they want to reinvest those earnings to further grow the business.
The contrast between these two views on dividend can be illustrated through the divergent comments of the CEOs from Energen and WGL Holdings. Take the view of WGL's DeGraffenreidt Jr. on the dividend.
"We have paid the dividend for 155 consecutive years, and we have raised the dividend for 30 years in a row. I like to point out that we have paid dividends through the Civil War, the Depression, World Wars I and II, all through the Vietnam conflict, all through the hyper inflation of the 1970s. That is our commitment to financial strength," he says.
But,