The Ontario Coal Conundrum
Tough plant-retirement decisions being made in Canada to reduce its carbon footprint contrasts with America's embrace of coal-based generation.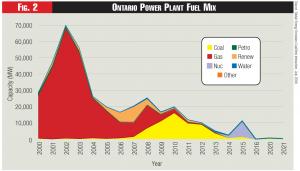 into delays and cancellations—the refurbishment of Pickering's nuclear units 2 and 3 and one of the previously approved gas-fired units, Greenfield North, have both been canceled. The pressure also has intensified because Ontario last summer set new records for its peak load, exceeding previous records by about 1,500 MW, or 6 percent. These recent developments may lead to further delays in the shutdown of Ontario's coal-fired assets.
In the Ontario government-instigated supply mix study, OPA recommends that renewable resources and energy conservation meet the majority of Ontario's load growth by 2025. OPA indicates that renewable resources (including hydro power) would need to increase their presence in the capacity mix from the current 26 percent to 37 percent by 2025. Further, OPA recommends that the contribution of natural gas to the installed capacity mix grow from 16 percent in 2005 to 27 percent by 2025. Further, the study points out that the less severe environmental impacts and lower variable costs of nuclear capacity make it a more suitable source for baseload generation as compared with natural gas. The study encourages the province to expand its nuclear fleet through refurbishing existing units or building new plants, whereby Ontario would continue to rely on nuclear capacity for 50 percent of its energy requirements.
Encouraged by the squeeze on coal, Kyoto Protocol pressures, volatile natural-gas prices, and the province's renewed desire to become more self sufficient as a result of the power blackout of August 2003, there has been a resurgence in interest in nuclear power. Ontario's energy minister, Dwight Duncan, says that in any overhaul of the power sector, the province would have to consider nuclear energy. That said, the industry faces an uphill battle given its track record—after several units were shut down seven years ago for safety reasons, and subsequent efforts to refurbish the units and bring them on line again have resulted in cost overruns.
Ontario IESO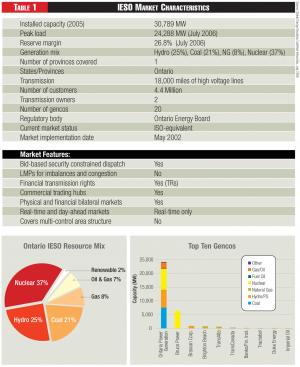 The Ontario market opened for wholesale competition in May 2002. Unlike its neighbors to the south, IESO has yet to adopt a nodal LMP-based market approach and relies mostly on bilateral transactions handled outside the ISO-operated markets.
The Ontario market covers the entire province of Ontario. The market has significant links into the Michigan and New York systems on the U.S. side and is a net supplier of electricity to U.S. consumers. Since markets opened to competition in 2002, power prices have remained moderate but volatile, the latter due to relatively small amounts of power traded in observable markets. There is no formal day-ahead market for power, and the IESO markets are primarily for balancing energy and ancillary services.
Ontario has the largest population in Canada but holds the second spot in terms of electricity market size with a winter and summer peak demand of approximately 25,000 MW. Like most other Midwest and Northeast systems in the United States, Ontario experienced record demands for electricity in the summer of 2005. A peak of 26,160 MW was observed on July 13, about 3 percent above the previous record set in 2002. In fact, this past summer,