M&A Value Creation: Combating the "Winner's Curse"
Significant value waits to be unlocked through consolidation, but conventional approaches have been inadequate.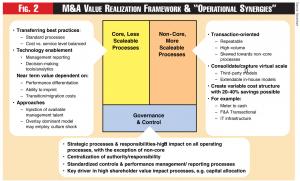 ultimately, reduce the variability of benefit realization. A clear perspective on the value framework and a disciplined approach to M&A is vital.
The Value Realization Framework
Most utilities are relatively new to the competitive acquisition game. They typically have entered the acquisition arena without differentiated operating capabilities, and lack a detailed understanding of how costs and investments behave as you consolidate. During the pursuit, benefits look tempting and transition costs/issues appear manageable. Premiums paid creep upward, and a honeymoon ensues. Ultimately, however, deal economics erode as integration planning progresses. Early benefit potential proves to be over-estimated, and transitional/integration investments under-estimated in the face of labor constraints, cultural challenges, and IT investments.
More often than not, the two combining utilities only weakly integrate, with more aggressive consolidation and operational improvement deferred. Consequently, little changes day to day.
Rarely in the early stages is a visionary "master business architecture" developed that explicitly defines all aspects of the combined end model—at least in enough detail to provide a practical road map forward. In the end, the combined companies preserve distinct practices, policies, systems and cultures well after the merger is "concluded."
Conceding these facts, can the level, and predictability, of operational synergies be improved? Experience in other industries suggests the answer is "yes." Improving the capture of operating benefits as part of an acquisition strategy begins with a clear view of your competitive priorities, the sources and behaviors of value, and how they should be managed: for example, a clear understanding of fixed versus variable costs, step change investment points, and the degree of control and influence required operationally over an individual process to advance competitive differentiation. These factors should drive a master architecture of the high-performance acquisition business platform.
In our experience, we find three key process groups should be considered in defining this platform (see Figure 2) :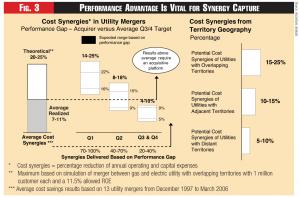 • Core, less scaleable processes where operational excellence through process improvement is vital. These typically are mission-critical processes that require significant management control and are not highly scaleable.
• Non-core, more scaleable processes where third-party, or other virtual scale, models should be considered. These processes are mission support and often can be managed with well-defined service criteria. They typically are transactional processes with high volume scale and entail repeatable integration issues.
• Governance and control processes , which permeate all processes and heavily influence ultimate performance in a number of high-value areas. These include planning, performance management, and control/accountability processes.
The M&A value framework implies a fundamental change in how a company views its operating model—less emphasis on customization and unique requirements, and more emphasis on a simpler framework, often breaking traditional paradigms. It implies that successful utility consolidators will bring superior and transferable processes and capabilities, as well as flexible, extendable, next-generation technology in high-impact areas, with strong management teams and corporate performance processes. Leaders will have highly competent corporate centers possessing strategic planning and M&A capabilities. They will have well-defined governance processes and will develop talent that can be infused into acquired companies. They will be well down the road on developing performance,