Regulators Forum: Taming the Utility Frontier
Policymakers are setting sights on new challenges facing utilities.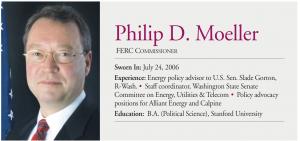 that applicants will pursue state remedies and the states will continue doing a good job siting infrastructure.
Congress took action [to give FERC back-stop siting authority for transmission lines] because it felt in certain circumstances of extreme congestion, the failure to act could jeopardize the interstate grid. I would hope FERC would not use its back-stop authority, but instead the states would remedy those problems and cooperate with FERC.
Also FERC policies should encourage demand-side management (DSM), efficiency, and renewable resources. If you can't get renewables and DSM to market, that stunts their growth. You have areas that are strong in wind resources but they are located far from load pockets. You have two or three proposals to take power from Wyoming to load pockets in Arizona and California. It may take federal action to accomplish that.
Fortnightly: What kind of federal action? Incentive-rate structures?
Spitzer: Return on investment for transmission improvements is a matter for debate. Should the investment be participant-funded or built into rates? It is a case-by-case question, and you consider the impacts. I am not wedded to one or the other; I can imagine scenarios where transmission improvements should be participant funded, and other cases where the costs should be rolled into rates.
But FERC should be mindful of the external benefits of transmission, including major economic and environmental benefits from bringing renewable power into load pockets and addressing the generation of greenhouse gases. Also, the last time I checked, the wind blows for free, so you have a fixed commodity cost that takes away some dependency on volatile gas.
Integrated-resource planning (IRP) is a uniquely state program. Arizona pursued DSM strongly in the Arizona Public Service (APS) rate case. Another state might not do as much. But to the extent academic engineering work is needed, the federal government can help with research and coordinate those efforts. Pursuant to EPACT (the Energy Policy Act of 2005), the federal government is preparing reports that will help state policies.
There's nothing worse than a program that fails and wastes money. FERC can help states and agencies avoid mistakes, by making sure they have access to the detailed information they need to craft programs that work.
In the organized markets, we want to encourage renewables getting to market, and give demand-side programs full credit for the value they create. Some RTOs are moving in that direction, and there are opportunities for renewables and DSM.
Fortnightly: Some states are considering rolling back utility restructuring. What does this mean for competition in the electric utility industry, and how should it affect FERC's policies?
Spitzer: As a former state regulator and student of federalism, I believe the federal government should be very reluctant to intrude on matters traditionally governed by state law, including rate structures. I recognize that federal policies affect retail rate structures, and we should work with the states to ensure transparency in wholesale market to serve retail policy choices.
Regulators need to be adaptive. For example, historically if a natural gas LDC committed to invest in storage facilities it was at