Duke-ing It Out at the High Court: The End of New Source Review?
To what extent can the EPA force utilities to update aging fleets with expensive pollution-control technology?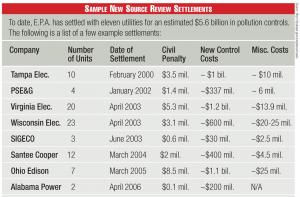 economies. 2 Regardless of whether these studies affect the Supreme Court's decision-making process, utility managers and decision makers should be keenly aware of some of their findings.
The Modification Rule
According to a 2002 congressional report, power-plant pollution causes approximately 30,000 deaths annually in this nation—more than drunk driving and homicides combined. 3 Yet, because of New Source Review and various other congressionally created grandfathering provisions in the CAA and its amendments, today only about one-quarter of the nation's large-scale generators have updated pollution-control equipment. 4 The sole issue in Duke Energy stems from a grandfathering provision, commonly known as the New Source Review modification rule. 5 Stated simply, this rule provides that power plants built before 1977 are not required to upgrade their pollution-control equipment as long as the plant is not significantly modified. The idea behind the significant modification standard was that as plants grew older, they either would have to be modified or retired, causing newer, cleaner plants to come online over time.
For more than 20 years, EPA rarely enforced the New Source Review modification rule. Just before leaving office, however, the Clinton administration began a large-scale enforcement initiative—initially suing 36 power plants for billions of dollars—in an attempt to force plant upgrades. While most of these cases have long since been settled (see figure, "Sample New Source Review Settlements") , a few are still being litigated, including the Duke Energy case.
What's At Issue?
After almost six years of litigation, the Duke Energy case has dwindled down to one central issue: How should the EPA calculate an emissions increase under the New Source Review modification rule? When determining whether a New Source Review triggering modification has occurred at a plant, the EPA uses two criteria: The modification must increase emissions from the plant, and the modification cannot constitute routine maintenance. A recent appellate court decision severely limited the breadth of the routine maintenance exemption; thus, the importance of the emissions increase test is now vital. 6
The EPA historically has used two tests for calculating whether a modification will cause emissions to increase significantly—an hourly test and an annual test. The hourly test is used to force small and large companies to meet baseline emissions standards, and the annual test is used to force major sources to install the best currently available technology. With an hourly test, a modification occurs only if the plant's hourly emissions would increase as a result of the change, but with an annual test, a modification occurs only if the plant's total annual emissions would increase. Stated more simply, an hourly increase generally will occur only if the modification will increase the plant's total capacity, while an annual increase will occur for much smaller modifications that might only increase the plant's capacity factor.
In its decision, the 4th Circuit invalidated EPA's use of the annual test. It did so by relying on an old Supreme Court tax determination, which says that an agency cannot interpret the same statutory term differently. In other words, EPA could not use an annual test for large