LNG: Desperately Seeking Supply
Several new LNG plants are under construction, but firm supplies remain scarce. Will empty terminals alleviate gas-price pressures?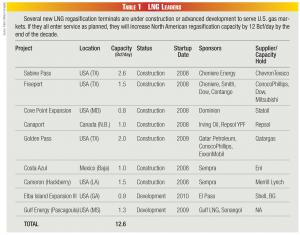 units currently in development might face an uphill path to completion.
To the degree new coal-fired plants in America are canceled or delayed, demand for natural gas likely will increase. Rising gas demand over the next five to seven years would drive gas prices higher than previously projected, perhaps giving utilities and regulators greater impetus to secure long-term gas supplies earlier rather than later. Whether LNG suppliers can or will reciprocate with commitments for upstream capacity, is another question.
To better understand the evolving outlook for LNG and its role in the U.S. gas market, Public Utilities Fortnightly assembled a group of LNG specialists with various perspectives on the issues. They include:
• Don Felsinger, Chairman & CEO, Sempra Energy;
• Gary Sypolt, President and COO, Dominion Transmission;
• Robert Ineson, head of the North American Natural Gas Team, CERA;
• Chuck Zabriskie, Managing Director & Head of Project Finance, North America, Royal Bank of Scotland; and
• Jacob Dweck, Partner, head of LNG Practice, Sutherland Asbill & Brennan.
Fortnightly: What's the outlook for the LNG market in North America? Are enough projects going to get built to prevent supply shortages? Or will too many get built to make them cost-effective for the owners?
Chuck Zabriskie: We are heading toward more-than-adequate capacity for regasification in North America. That's good because we need more regas capacity than liquefaction capacity at all times—at least 30 to 50 percent more—to have a strong spot market. And for the health of the system you don't want to run at 100 percent all the time anyway. You want some slack for reliability.
Jacob Dweck: You have to look at it from a national and regional perspective. The U.S. Gulf Coast all the way to New York and the Midwest can be viewed as a single market. Then you have other markets, including New England, California, and to some degree, Florida.
More than enough terminals are being built in the Gulf Coast to meet demand in that market. Florida is a juicy market, and Elba Island and a couple of other projects will serve it. New England is a different story, with significant pipeline constraints. One terminal or two will be enough, and Canaport in New Brunswick seems to be moving forward. Several other proposals are chasing about 1 Bcf/day of capacity. It's a game of musical chairs, and maybe two people can sit on the chair in New England.
California is a difficult market. Sempra's facility in Baja will serve Southern California, but that's not a huge market. As long as hydropower is working you don't need the gas. The Long Beach project is dead, and other projects have an uphill battle with siting issues. Any project in the United States with firm local opposition will not get built.
Gary Sypolt: Unfortunately, most of the projects being built are far from the marketplace. We are expanding Cove Point in the market area, but most other projects will be built in the Gulf of Mexico. From our perspective that doesn't help our diversity of supply a whole lot