Merger Frenzy
KKR's leveraged buyout of TXU might be the first of many private-equity M&A deals, but traditional utility mergers also will increase.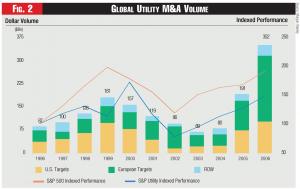 splits and separations occur, some of these future mergers will occur along these lines: 1) for regulatory reasons; 2) valuation and credit reasons; 3) environmental pressures; and 4) volatility."
Mergers Won't Be Easy
If you were a utility executive today, what would you think are the odds of success of completing a merger in this environment?
That was the question posed by J.P. Morgan investment banker Eric O. Fornell to the Exnet conference attendees.
A managing director of the bank's Energy Investment Banking group, Fornell guesses the odds of an announced transaction ultimately closing are about 75 percent.
"If you were a management team thinking about, 'do you want to enter in to this,' is clearly something that you are going to have to think about the money, credibility, and time you'll have to invest with investors, regulators, and politicians," he said.
Fornell believes that there may be downward pressure on utility stocks in the next five to 10 years, given current historical highs.
"So, if you think about the future, this is probably a good time—if you're thinking about maximizing value—to be thinking about a transaction just from a valuation perspective."
Lazard's head power and energy investment banker, George Bilicic, also presented at the Exnet conference.
"We continue to believe that the industry will steadily consolidate, while Exelon and FPL are examples of what can go wrong. There are plenty of other examples, such as the Duke-Cinergy deal and the Mid-American and PacifiCorp deal, that stand in stark contrast. Transactions will be able to support only moderate premiums as compared to the high premiums we saw in the late 1990s. We don't see the emergence of a hostile transaction trend or activist hedge fund that were very active in the PSEG transaction," Bilicic said.
Furthermore, he says that the renewables, alternative energy, and conservation efforts will dominate strategic thinking this year in terms of why utilities would conduct a transaction. "We believe more than one non-U.S. company will pursue a deal in the U.S. this year," he added.
Spinoffs and Separations Revisited
Wall Street has been going full-tilt in recommending spinoff transactions. Some conference-goers wondered if Wall Street banks had a meeting on separations. At the conference, bankers from Merrill Lynch, Credit Suisse, J.P. Morgan, Lazard and other firms all expressed the need and advantages of utility separation transactions.
This, of course, drew some skepticism from at least one utility conference attendee, given the industry's past experience with such transactions. Michael Morris, CEO at AEP, said utilities were not really interested in separation transactions from generation from transmission or distribution, or gas from electric. "We don't see a need for that. If you are an integrated utility today, unless you have huge capital needs or a state law that causes you to break apart your asset base, I don't see the logic behind it," he said. Morris predicted one would not see a lot of separation transactions because the aggregated asset base in the vertically integrated model "makes so much sense," he said.
As far as separating gas from electric, as